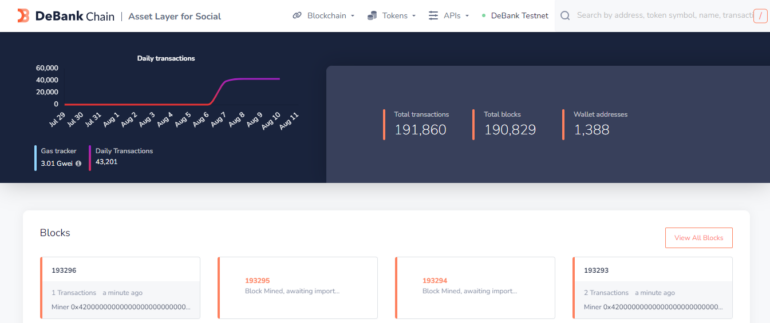 DeBank's "Asset Layer for Social" blockchain looks to tackle costly transaction fees and safeguard layer 1 assets on EVM-compatible chains.
The DeFi aggregator said its chain would implement account abstraction at chain level to offer a web2-like experience for users.
DeBank built its testnet and upcoming mainnet using OP stack, the blockchain infrastructure developed by Optimism and employed by Coinbase for its L2 network Base.
Crypto portfolio tracker DeBank released its testnet blockchain on Friday ahead of the network's mainnet launch expected next year in 2024.
The so-called "Asset Layer for Social" aims to tackle three concerns posed by decentralized finance participants regarding transaction costs, user experience, and asset safety on layer 1 blockchains.
A custom-built consensus mechanism would help reduce gas fees by 400 times the usual cost on other Ethereum Virtual Machine-compatibility (EVM) chains, DeBank said. The chain was also built using Optimism's OP stack, a blockchain design developed by the Ethereum scaling solution that slashes transaction fees without jeopardizing network security.
The network hopes to offer users a web2-like experience, using Ethereum updates like Account Abstraction to implement seamless activities across networks compatible with EVM standards. DeBank also announced a private key signing feature built to safeguard assets.
The new account system supports transactions signed with a dedicated L2 private key, reducing the use of L1 private keys in social scenarios and enhancing the security of users' L1 assets.
DeBank, Coinbase, Mantle Opt For OP Stack
DeBank is the latest DeFi player to adopt Optimism's OP stack for its own blockchain solution. Indeed, the OP stack has become popular among service providers looking to build tools that offer cheap on-chain transactions at scale.
Base, the layer 2 network backed by crypto exchange Coinbase, also built its recently launched mainnet using Optimism's developer kit. Users bridged ~ $170 million in crypto from Ethereum to Base less than 24 hours after the network launched.
Other decentralized networks like Mantle and OpBNB also chose OP stack for their chains.