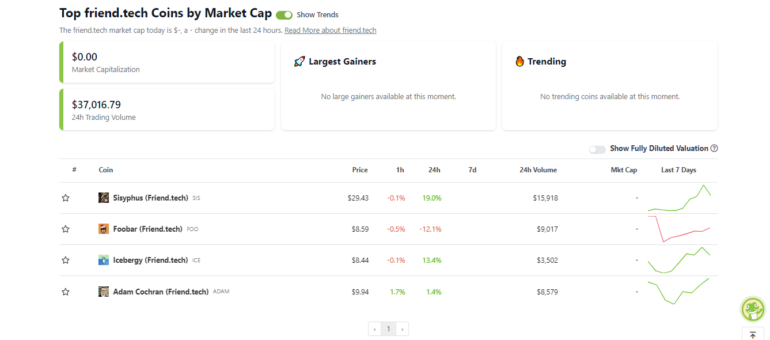 Friend.tech competed with top-ranked DeFi platforms like Uniswap and Lido Finance, generating around $1.42 million in fees.
The social tokenization app also contributed to activity on Base, the recently launched L2 network incubated by Coinbase.
Community members are torn over whether Friend.tech could be another DeFi one-hit wonder as the hype continues.
Crypto aggregator Coingecko added a category for wrapped versions of Friend.tech shares as the project continues to attract attention, sparking discourse among DeFi participants.
These tokens exist in the ERC-20 standard on Base, a layer 2 blockchain incubated by crypto exchange Coinbase which launched in August. Wrapped versions of Friend.tech shares went live on August 19.
Friend.tech Hype
The mobile app launched with an invite-only beta a day after Base opened for public access. The platform allows users to tokenize their X (formerly Twitter) accounts and sell a feature called "shares". Shareholders are then afforded access to a private chat room owned by the account whose shares they bought. Users have drawn comparisons with a similar dapp called Bitclout.
The project has garnered attention and participation from DeFi users, reaching over 100,000 unique users shortly after launch per a Dune Analytics dashboard.
Observers also raised eyebrows regarding the long-term value proposition of the project and its pricing mechanism. Friend.tech employs a bonding curve that prices each share based on the number of shareholders. This also means the price of each share could increase as more users buy the shares of an account.
Bitclout, another platform that tokenized users' social media presence, offered a similar platform that eventually faded after the initial hype.
Community members also raised privacy concerns after a so-called leak of users' on-chain addresses. "This is just someone scraping our public API that shows the association between public wallet addresses and public Twitter usernames", the team responded.
Friend dot tech
The mobile-only social media decentralized app currently has no privacy policy page, leaving questions about the project's approach to one of crypto's most talked about topics.