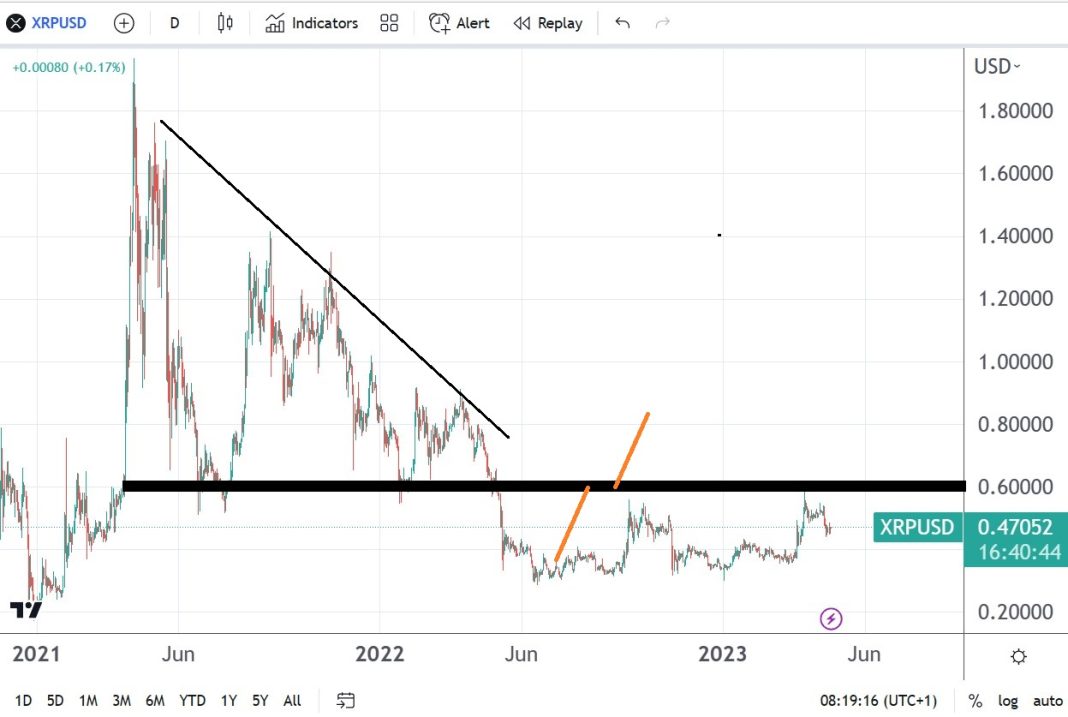 $0.6 offers a strong horizontal resistance
The bias remains bullish while the market holds above the 2023 lows
A daily close above $0.6 should trigger more upside
It must have been a frustrating second half of the last year for cryptocurrency investors. As the dollar began to weaken, major stock market indices bounced. 
But the dollar's weakness was not seen in the cryptocurrency market until the very last days of the year. Moreover, the divergence continued from last October, when the stock market bottomed, until the last trading days of the year. 
Only in 2023 things changed. Leading cryptocurrencies rallied, led by Bitcoin. 
Some bounced stronger than others. In the case of XRP/USD, it met horizontal resistance at $0.6, a level that provided support in 2021. 
A daily close above $0.6 would be bullish for XRP/USD
After trading above $1.8 in 2021, when the entire cryptocurrency market rallied, Ripple gave up a big chunk of its gains. On the way down, the market met support at $0.6 for over a year. 
Eventually, the support gave way as the bears were in control. 
But now, the same area that acted as support acts as resistance. In technical terms, this is called the interchangeability principle (i.e., support becomes resistance and vice versa). 
If the bottom carved in the late days of 2023 is here to stay, then the focus is on the $0.6 area. A daily close above would be bullish, and the next immediate target would be $0.8. However, only a break above parity would shift the bias from bearish to bullish. 
All in all, XRP/USD looks constructive here. As long as the lows hold, the chances are that the market is only building energy for another attempt at the $0.6 level. 
The post XRP/USD fails at horizontal resistance, but the bullish bias remains appeared first on CoinJournal.