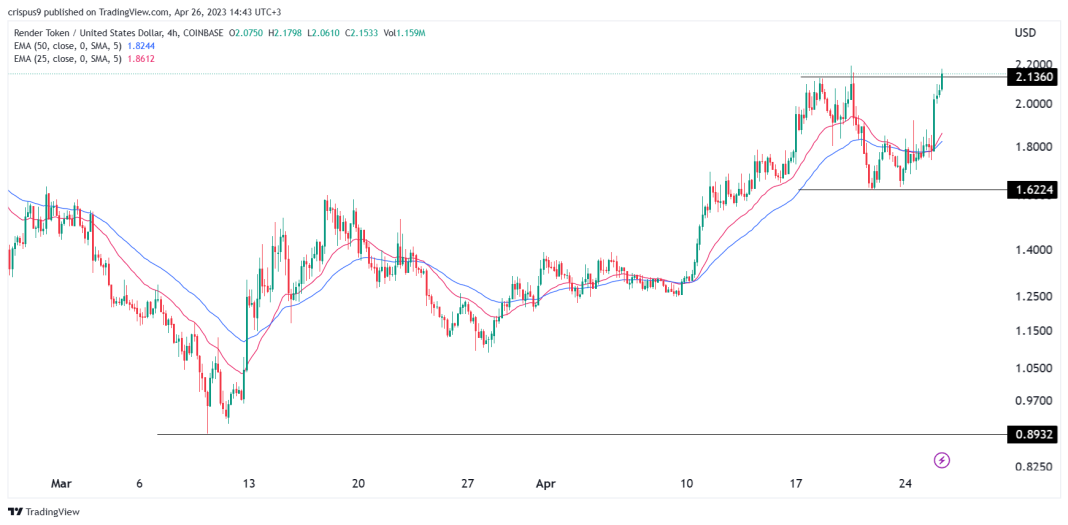 Render Network's token jumped sharply on Wednesday.

The community passed two key votes: RNP – 002 and RNP – 003. 
Render Token (RNDR) price surged to a key resistance level after the developers made a major milestone. The token surged to a high of $2.20, which was the highest point this month. In all, the token has been one of the best-performing cryptocurrencies after rising by more than 140% from the lowest level in March.
Render Network news
The main reason why the RNDR price surged is that the community completed the RNP-002 and RNP-003 votes. These were the most important votes in the community because they will change the architecture of the network.
Precisely, RNP-002 means that Render Foundation can now move ahead with implementing the BME model on the Solana ecosystem. Solana is a leading blockchain that is known for its fast speeds and low transaction costs. 
Unlike Ethereum, Solana can handle thousands of transactions per second while the average cost is less than $0.01. Therefore, by using Solana, Render hopes that its users will work at a faster pace and save a lot of money in transaction costs.
Meanwhile, the RNP-003 vote was known as the Resource Acquisition and Allocation for Core Team and Grants. The vote simply makes it possible for the Render Foundation to acquire and allocate resources in a bid to grow the ecosystem. The next stage is that these votes will be updated to Approved and on the Roadmap. 
The RNP voting process for RNP-002 and RNP-003 has officially come to an end!

Here are the results and what they mean for the future of the Render Network.🧵

— Render Network | RNDR (@RenderToken) April 26, 2023
Render Token price prediction
The daily chart shows that the RNDR price has been in a strong bullish trend in the past few months. It has jumped from a low of $0.8932 in March to a high of $2.20. The token has jumped above all moving averages.
The current price means that the token has formed a double-top pattern. In price action analysis, this pattern is usually a bearish sign. Therefore, with the Solana integration news confirmed, there is a likelihood that the token will pull back.
This is known as buying the rumours and selling the news. It happens when investors buy an asset ahead of a major event and then sell when it happens. If this happens, the next key level to watch will be the neckline of the double-top at $1.622.
How to buy Render Network token
The post Why is the Render Token (RNDR) price surging? appeared first on CoinJournal.