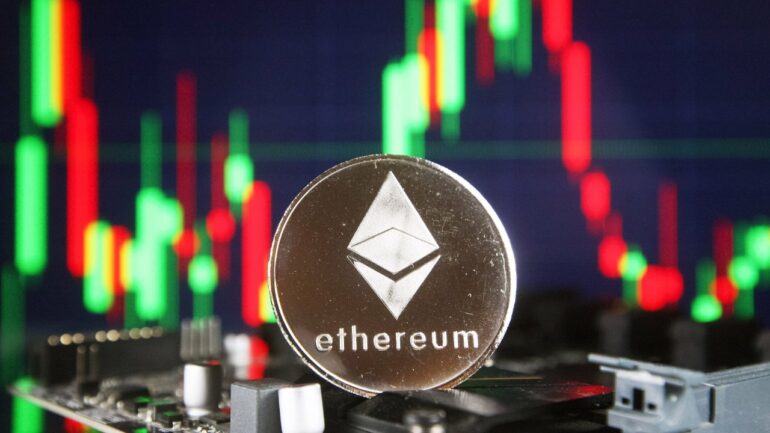 Summary:
Data from Blockchain Intelligence startup Nansen shows a steady increase in the number of staked ETH.
So far, users and entities have locked over 22 million coins which amount to about 18% of the token's supply.
At the same time, balances in crypto exchanges are declining and now sit below 30 million tokens.
Analysts say the Shapella upgrade eliminated concerns around withdrawals and triggered a boom in locked tokens since stakers can earn rewards as opposed to just holding their coins.
The number of staked ETH continues to increase following the release of Shapella which enabled withdrawals for locked coins on Ethereum's Beacon chain.
Following the Merge – Ethereum's massive technological transition from proof-of-work to proof-of-stake – proponents were concerned about withdrawal functionality and possible selling pressure on the market.
Both concerns were rendered non-events, said Nansen's Martin Lee as Shapella galvanized users and entities alike to stake more tokens. 
At press time, the number of staked coins crossed 22 million tokens. This amounts to around 18% of the available supply. The Merge also slashed emissions meaning that fewer tokens are released per block as rewards, taking ETH into a deflationary state.
ETH On Exchanges 
At the time when staked tokens continue on the upswing, token balances on crypto exchanges have steadily declined. Balances in crypto exchanges have dropped below 30 million, per Nansen data.
One reason for this could be that entities are more likely to stake their token now that withdrawals are enabled rather than simply hodl the asset. 
Analysts opine that the staking incentive is greater now since withdrawals are possible and stakers can earn yield or rewards for locking their tokens. In contrast, holding the token on crypto exchanges earns no yield.
Following lawsuits from the U.S. Securities and Exchange Commission against Binance and Coinbase, crypto prices fell across the board. Traders were able to scoop up tokens around $1,740 a pop during trading hours on Monday.