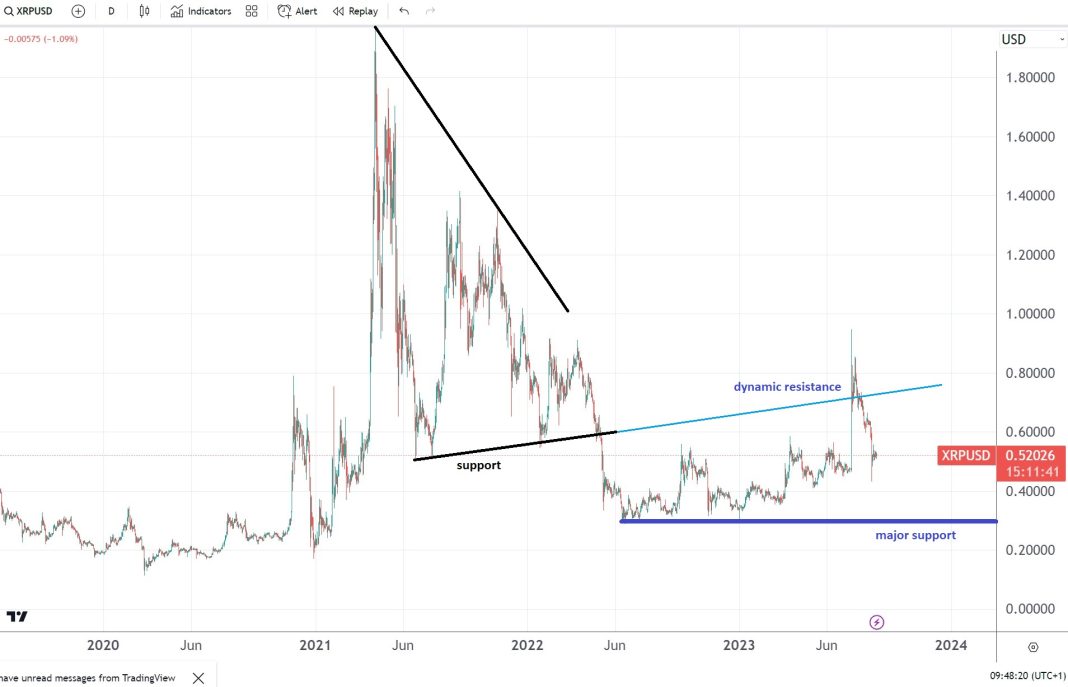 Ripple erased all the gains following the July federal court ruling
Dynamic resistance held
All eyes are now on the major support area seen at $0.3
Crypto investors cheered Ripple's price reaction in July following news that the XRP token is not a security when sold to the general public. The price spiked from the $0.4 area to close to $1, and finding a single bearish trader following the news was impossible.
But markets often mislead traders.
As it turns out, the SEC (Security and Exchange Commission) wants to appeal the federal court ruling in Ripple's case. Investors did not wait and sold, sending the XRP/USD rate back to where it was before the July news.
The round trip was completed recently when Ripple fully retraced the move following July's announcement.
One can build both a bullish and a bearish case for Ripple by looking at the technical picture. But the main thing is that Ripple is back in the range, unable so far to break above or below major resistance and support areas.
The bullish case for Ripple
In 2021, Ripple's price surged to over $1.8 as investors hurried to get exposure to the cryptocurrency market during the COVID-19 pandemic. But sellers quickly emerged, and a bearish triangle formed.
The triangular consolidation held until 2022. In the first half of that year, Ripple's price broke lower. It did so by breaking support given by the lower edge of the triangle, and since then, it has not looked back.
Until this July.
Previous support turned out to be dynamic resistance. It is this resistance that kept bulls at bay following the July news.
However, despite the rejection, one can build a bullish case for Ripple. The $0.3 area acted as a major support in 2022, and the market has built a series of higher highs and higher lows ever since. As long as it holds above support, Ripple's price might recover and attempt to break and hold above dynamic resistance again.
The bearish case for Ripple
On the other hand, the recent selloff alone has scared many traders. Optimism vaned, and with it, capital fled, too. If Ripple's price drops below $0.4, the momentum then builds for further downside toward the major support area seen at $0.3. A break there, and it is game over for bulls that were so sure that Ripple's time has come.
The post Ripple back under pressure, bears eye major support area appeared first on CoinJournal.