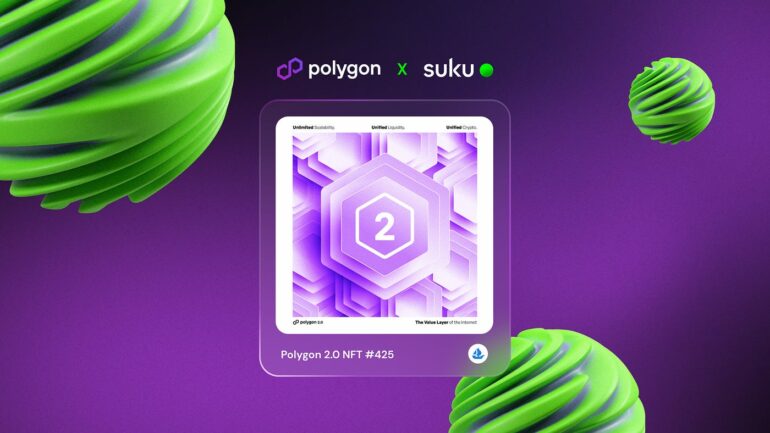 Polygon partnered with web3 wallet Suku to launch an open edition NFT collection minted on Twitter. 
The crypto community on Twitter minted more than 50,000 NFTs within 48 hours. 
Suku leveraged Twitter for its user-centric approach to onboard newcomers into crypto. 
Polygon, the popular Ethereum layer 2 scaling solution, recently partnered with Web3 payment services firm Suku to launch an unprecedented open edition NFT collection that was entirely minted on Twitter. Users on Twitter minted more than 50,000 NFTs during the 48-hour mint window by making a tweet tagging Polygon and Suku. 
Suku Leveraged Polygon And Twitter To Simply Crypto Onboarding
The free NFT collection from Suku was announced to celebrate the launch of Polygon 2.0. The NFT campaign led to Suku getting more than 48,000 wallet downloads, the web3 payments firm stated in a press release. Suku and Polygon received over 88,000 social mentions, 18 million users reached, and over 22 million impressions through the free NFT collection.
For managing the NFTs minted on Twitter, Suku offered NFT holders its web3 wallet, which can be accessed with their Twitter account. According to Suku, by eliminating the complex onboarding process associated with NFTs and the broader crypto space, it promoted blockchain inclusivity. 
By integrating its tools with popular platforms like Twitter, where users already spend their time, Suku is pioneering a user-centric approach to blockchain technology."

Suku team
Suku's social web3 wallet also allows users to send and receive crypto instantly. Users who haven't signed up for the wallet can access it by using their Twitter handle as a wallet address, essentially making it the crypto transfer service on Twitter. 
Suku stated that utilizing a fast and scalable blockchain like Polygon was a key element of its plan to foster crypto adoption and attract new users to the blockchain space, in addition to other incentives such as zero gas fees on minting NFTs and access to a web3 wallet that wouldn't require seed phrases or private keys. The firm plans to expand to other social media platforms, including Face, Reddit, Instagram, and LinkedIn.