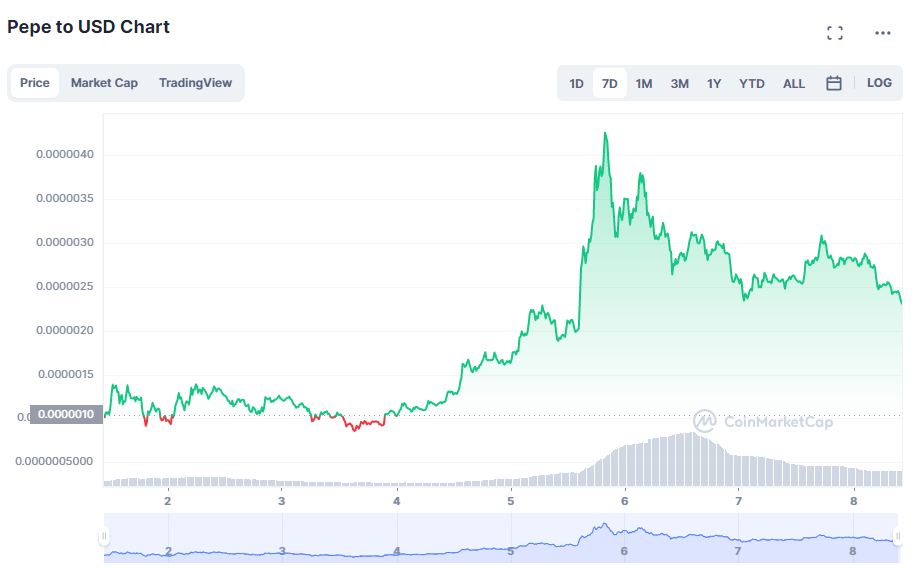 At press time, PEPE was trading at $0.000002328.
The token price has declined by 10.93% in the last 24 hours.
PEPE hit an all-time high of $0.000004354 on May 5, 2023.
Three days after hitting its all-time high, PEPE, a meme token that has seen its popularity go through the roof recently, is now on the decline.  
The price of PEPE has dropped by 46.53% in just three from its all-time high of $0.000004354, which it hit after the meme token got listed on several major exchanges including OKX and Binance.
About 4.23 trillion PEPE tokens sent to Binance
According to a tweet by blockchain data provider Lookonchian, a giant whale bought 4.23 trillion PEPE tokens using 422 $ETH and 200K $USDC. The whale then deposited all the purchased PEPE to Binance.
The above transactions were made on May 5, the same day Binance announced PEPE's listing. Immediately after purchasing the trillion of PEPE tokens, the price of PEPE skyrocketed making the whale accrue a profit of about $14.5 million at the time he was depositing the token in Binance.
There is fear in the market that the move by the whale to send the meme coins to Binance could be in preparation to sell the tokens in order to recoup profits before the token dumps. These fears have exerted pressure on the market resulting in the current price drop.
The post PEPE price dives after Whale transfers trillions of tokens to Binance appeared first on CoinJournal.