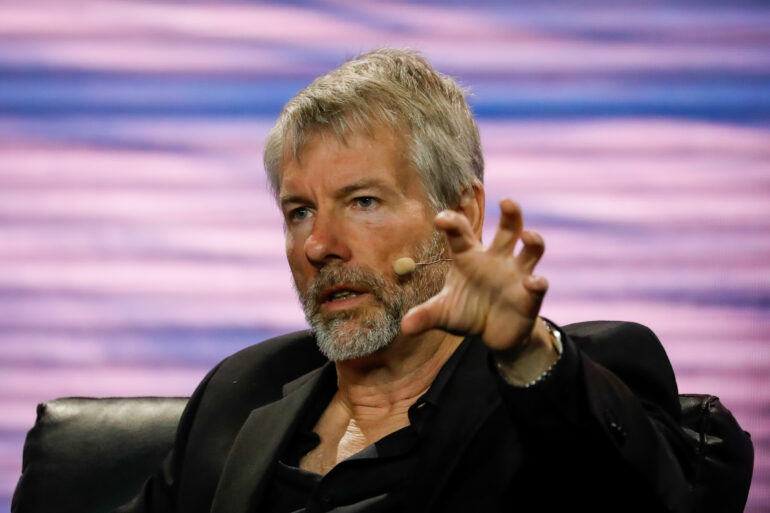 Summary:
MicroStrategy added to its massive Bitcoin coffers with a $347 million purchase.
The company bought an additional 12,333 BTC at an average price of $28,136 per coin, Founder and Chairman Michael Saylor shared.
MicroStrategy now owns 152,333 Bitcoins worth approximately $4.6 billion, further solidifying the company as the largest corporate holder of BTC.
MicroStrategy added to its BTC holdings after spending $347 million in cash buying 12,333 Bitcoins between April 29 and June 27, a filing with the U.S Securities and Exchange Commission shared on Wednesday showed.
The company added to its latest BTC holdings at an average price of $28,136 per BTC. Wednesday's reveal follows a purchase of 1,045 Bitcoins bought with $29.3 million two months ago in April.
This means that MicroStrategy, the largest corporate holder of BTC, now holds some 152,333 coins bought at an average price of $29,668 including fees. The company spent around $4.52 billion purchasing its BTC and its Bitcoins are worth over $4.6 billion at current market prices.
Bitcoin traded above $30,000 on Wednesday buoyed by spot ETF applications from institutions like BlackRock, WisdomTree, and Invesco.
MicroStrategy Ups Bitcoin Holds As Spot ETF Applications Surge
Although MicroStrategy has been buying Bitcoin since 2020, the company's latest acquisition comes at a time when institutions are racing to provide U.S. investors with America's first Bitcoin Spot exchange-traded fund.
Indeed, wall street titans like BlackRock have filed for a Bitcoin Spot ETF with the Securities and Exchange Commission. Other players like WisdomTree and Invesco followed suit with respective applications. Fidelity, another giant asset manager with trillions in AUM is expected to file its application by Tuesday.
Banks and trillion-dollar institutions are also tapping Bitcoin exposure by betting on MicroStrategy stock MSTR. BlackRock owns a staggering 6% stake in Michael Saylor's company and owns MSTR shares worth over $150 million.