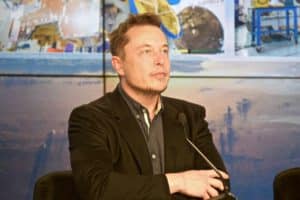 Recently, Elon Musk has not held back with criticism on Twitter, particularly addressing the traditional financial system, calling it very inefficient.
The news is also reported by Watcher.Guru. 
Full details below. 
Here is what Elon Musk said on Twitter 
In a recent space on Twitter, Elon Musk expressed his opinion about traditional financial platforms, pointing out that the existing ones are not up to progress and have a lot of room for improvement. 
Specifically, the billionaire entrepreneur hit the system with harsh words, labeling it as "very inefficient," too centralized and heterogeneous. In fact, the possibilities for creating a new system may be there. 
Specifically, Musk stated the following on Twitter: 
"I think there is potential to create a more efficient financial system." 
As we know, constant improvements are quite essential to the evolution of any industry. Over time, technology becomes obsolete and more and more gaps are created that need to be filled. 
This is precisely the case with the traditional financial system at the moment. In fact, with the advent of DeFi and more transparent solutions, people have increasingly moved from one system to another.
Given the various problems that plague the traditional financial landscape, a new system with tailored specifications can increase convenience for consumers. In addition, Musk also stressed that there is no point in disrupting things unnecessarily: 
"If there's a better product, that's great." 
It didn't end there though, because Musk went on to state the following: 
"Money is just information. This is the only thing that would be poetic to automatically realize the vision I have for X." 
What is X? "The app for everything" envisioned by Elon Musk. 
This is not the first time Musk has talked about "X," the everything app. Specifically, Elon Musk intends to convert Twitter into this "app for everything" called X. 
That means enabling the platform to offer financial services, including peer-to-peer transactions, savings accounts and even debit cards, according to the report.
Specifically, X is inspired by the Chinese app WeChat, in which there is a platform that combines apps such as Facebook, Twitter, Uber, Instagram and Substack. 
But not only that, because in addition to booking services, ordering food, and expressing opinions, it is one of the most popular entertainment and news portals in China.
It is also a major fintech provider, one of the country's largest online finance and payment networks: users exchange money, pay for goods and services, and borrow money. 
Finally, businesses use it as well: the WeChat mini-program business is worth about $240 billion, and users have grown 12.5% to 450 million by 2021.
However, Musk has promised that his "X" app will differentiate itself in one very important respect: freedom of speech. In fact, control of the Communist Party dominates WeChat and especially its content. 
Musk, on the other hand, had said:
"I hope even my worst critics will stay on Twitter, because that's what free speech is all about." 
In addition, it is worth noting that the platform has already begun applying for regulatory licenses to enter the payments business in the United States. Twitter is designing software to eventually introduce payments across the platform. 
In fact, Esther Crawford, a senior Twitter employee, has begun outlining the architecture required to facilitate payments on the platform, along with a small team of employees.
Elon Musk resigns as CEO of Twitter
Elon Musk's resignation as CEO of Twitter had formally come as early as December 2022. However, at the time, the entrepreneur made it clear that he wanted to take his time to find someone "crazy enough" to take his place. 
Now that the resignation is effective, Twitter's new CEO has been found and it is Linda Yaccarino, a well-known name in the press landscape and beyond. 
Initially, we know, no other information had been released about Twitter's new CEO other than that she was a woman, that she would take office within six weeks, and that she would replace Musk in the management-administrative role, but not in the Chief Technology Officer and Product and Software Officer roles.
As reported by The Wall Street Journal, Linda Yaccarino last month had participated with Elon Musk in an industry conference with a talk focused on the future of Twitter named "from conversations to partnerships." 
Then, in the days leading up to Elon Musk's announcement, Linda Yaccarino resigned her position at NBCUniversal, where she had worked for eleven years, rising to the position of global head of advertising and partnerships. 
Finally, on Friday 12 May, came official confirmation from Elon Musk, who in a tweet welcomed Linda Yaccarino to the platform and reiterated, perhaps more to users than to the newcomer, that the goal to be pursued further is the transformation of Twitter into X, "the everything app." 
In view of all the business goals, the main task of Twitter's new CEO will be to restore the social platform's finances, which were already less solid than imagined. 
Moreover, in recent months, they have become even less so because of some of Elon Musk's controversial decisions, such as reactivating the Twitter profile of Donald Trump and other representatives of the American radical right who had previously been banned from the platform.