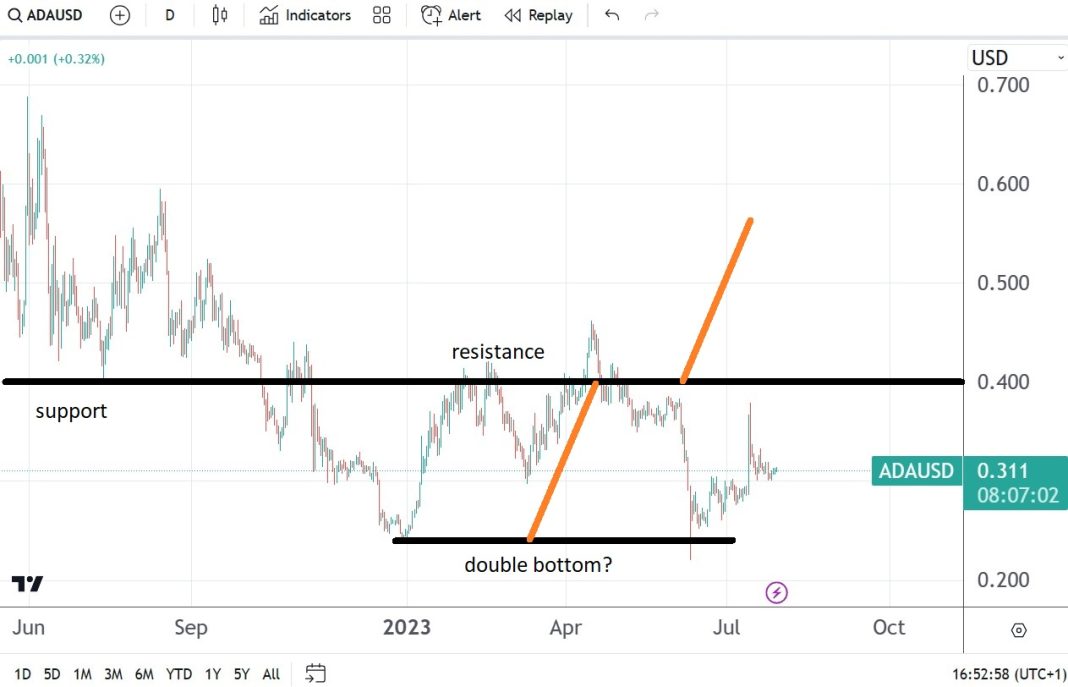 Fed's July decision did not impact the cryptocurrency market
Despite rallying in 2023, ADA/USD dipped below the 2022 lows
A double bottom pattern might be in place, and a move above $0.55 would confirm the reversal pattern
Three central banks announced their interest rate decisions this week, and the Federal Reserve was one of them. For those trading cryptocurrencies denominated in US dollars, the Fed's decision marked one of the most important events of the summer. 
Following the decision to "skip" a rate hike in June, the Fed signaled that it would hike the rates in July, despite the clear improvements in the fight against inflation. Accordingly, the market priced in a rate hike, and the Fed delivered. 
As such, all the attention was on what the Fed will signal moving forward – more tightening or the fact that it had reached the terminal rate? Every detail was important for the US dollar as its volatility directly impacts cryptocurrency traders. 
As it turned out, the Fed did hike the funds rate by another 25 basis points and did not signal that the current cycle ended. Therefore, the outcome of the Fed's meeting might be viewed as hawkish for the US dollar, and so, it is no wonder that the cryptocurrency market continued its consolidation and experienced less volatility following the Fed meeting than the traditional currency market. 
ADA/USD unable to break above horizontal resistance
Cardano (ADA) rallied in 2023 as Bitcoin and other major cryptocurrencies bounced from their 2022 lows. In doing so, the market met little or no resistance until the $0.4 area. This is an area where ADA/USD found support in the past, and now support turned into resistance.
For several months now, ADA/USD was not able to break and hold above resistance – every time sellers emerged. So heavy was the selling pressure that the market even dropped below the 2022 lows. 
Naturally, this week's Fed decision was important because it might be that ADA/USD formed a double bottom with the last attempt to the lows. While the Fed's decision did not trigger a lower dollar, the bias remains somehow bullish for ADA/USD because of the possible double bottom. 
Therefore, if ADA/USD climbs above $0.4, more buyers might step in to trade the pattern's measured move, seen in orange above. It points to $0.55, and on such a market move, the bearish bias might finally be left behind. 
The post ADA/USD price forecast following the Fed's July interest rate decision appeared first on CoinJournal.