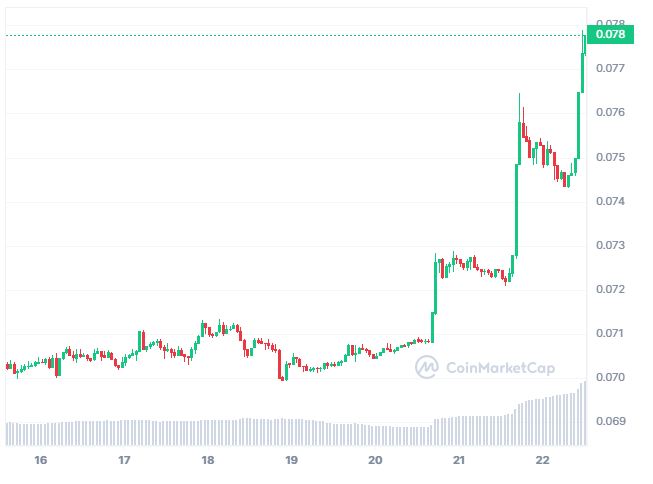 The TRON DAO team on May 15 revealed the results for the HackaTRON Season 4.
The top project will share 500,000 USDD, a TRON-based stablecoin.
TRON's price has risen by 10.64% over the last seven days.
The price of TRON (TRX) has been rising since May 15 after the TRON DAO team, the community representatives of the TRON blockchain platform, unveiled the results of the fourth season of the HackaTRON competition.
The top judge-selected projects in all the categories will now share 500,000 USDD, a TRON-based decentralized, over-collateralized, multi-chain stablecoin. The selected qualifiers will also be allowed given application accessibility to Huobi Ventures and TRON DAO Ventures for capital funding.
There were 625 participants in 172 projects across different categories including DeFi, Web3, NFT, GameFi, and the new Builder and Eco-Friendly categories. The first place in each of the selected categories receives 20,000 USDD, the second place holders receives 15,000 USDD, the third place receives 10,000 USDD, the fourth place holders receives 8,000 USDD and the fifth place holders receives 6,000 USDD.
TRON price movement
TRON (TRX) price unleashed a monster bull run on March 20 and has maintained a bullish stance since then.
Prior to the bullish price breakout, the price of TRON had been trading in a very tight range.
While the main reason for the current TRX bullish trend is the successful completion of the HackaTRON Season 4 and the awarding of the top project, the bull trend is expected to continue at least in the coming days.
The post TRON price rally gains impetus as top HackaTRON Season 4 projects share 500K USDD appeared first on CoinJournal.