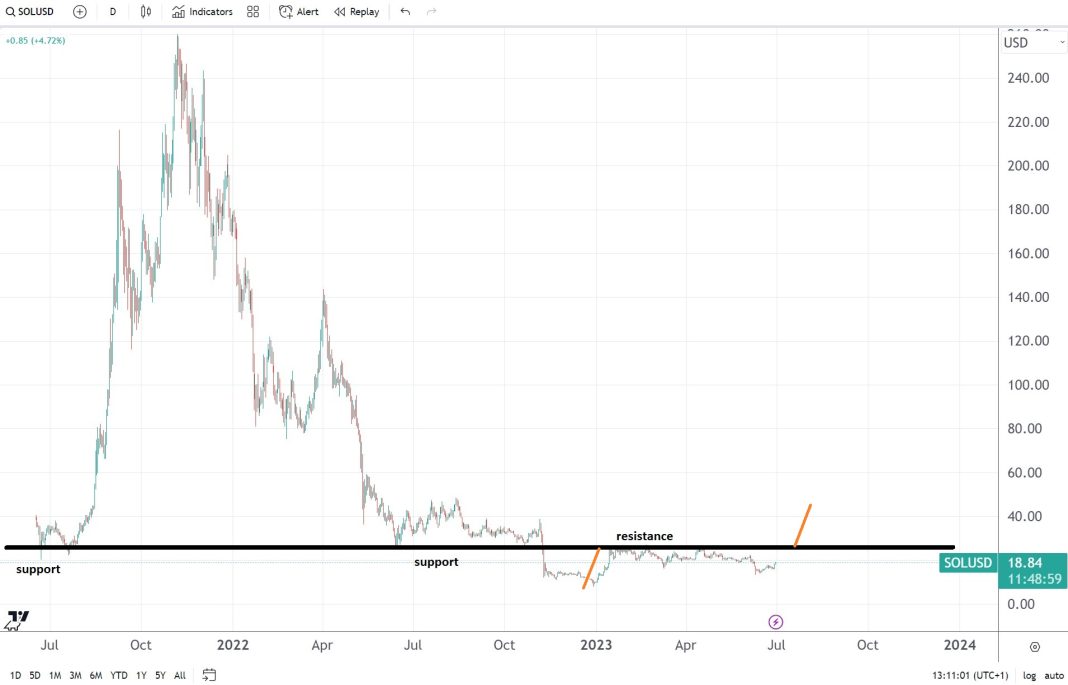 Solana rallied in 2023 but failed to break above the horizontal resistance
A bullish case remains valid unless the price moves below the 2022 lows
If it breaks above horizontal resistance, Solana may trade above $40
Cryptocurrency investors must be thrilled with the 2023 price action. After all, Bitcoin bounced from last year's lows, triggering a similar move in other major cryptocurrencies.
Solana followed suit.
The price more than doubled this year, rising from $10 to over $25 in what appeared to be a clear bullish breakout.
However, after trading above $26 in January, the market failed to build on the bullish trend. Instead, a consolidation started, bringing doubts to bullish traders.
The best way to clear such doubts is to look at the bigger picture. As the chart below shows, it is difficult to build a bullish case while the market holds below horizontal resistance.
However, the 2022 lows remain in place, so one can build a bullish scenario as long as the market does not dip below those lows.
A break above horizontal resistance should trigger more gains
Solana's price remains bearish while below horizontal resistance. However, a break above it implies more strength ahead.
That is especially true if the US dollar's weakness resumes. So far in 2023, the dollar traded with a mixed tone.
But as the Fed is on pause, renewed weakness will bode well for cryptocurrencies and for Solana.
A daily close above horizontal resistance opens the gates for a move above $40. If the Fed believes that the US inflation data follows the right path, the dollar should weaken in the year's second half.
The post Solana technical analysis update – can it jump to $40? appeared first on CoinJournal.