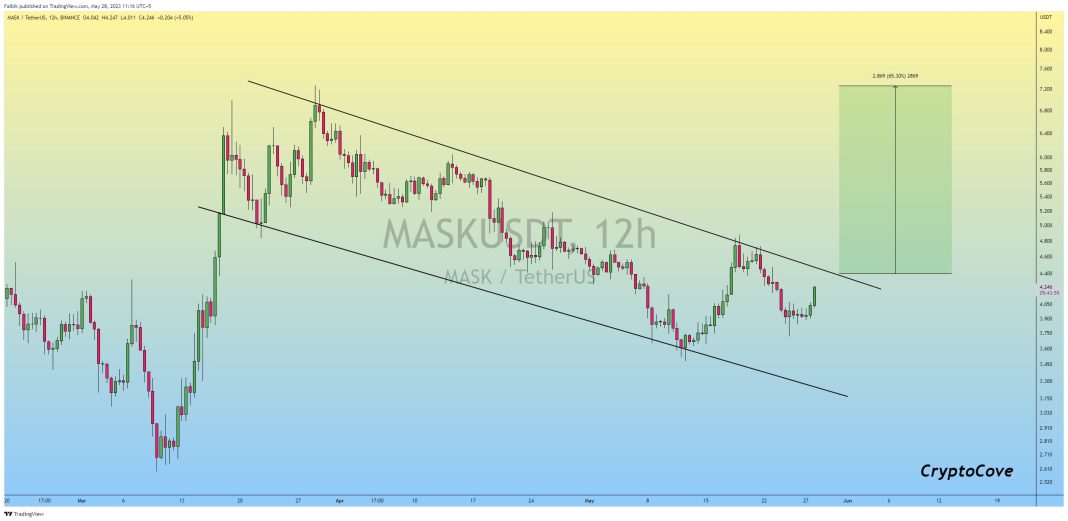 MASK price is up by double digits today and 17% this past two weeks.
Most of the gains have come after the team announced it had invested in The Open Network (TON) network.
MASK price remains nearly 90% down from its all-time high of $41.45.
Mask Network (MASK), a decentralized social network seeking to bridge Web2 and Web3 apps, has seen its price increase by over 10% in the last 24 hours. The current price of MASK is $4.40.
MASK price is up more than 17% this past two weeks.
Why is the price of Mask Network (MASK) up today?
There seems to have been no particular trigger for MASK price rallying by double-digits today. However, it is likely the project's recent announcement of an investment in The Open Network (TON) continues to boost investor confidence and aiding buying pressure.
Another reason could be the uptick seen today across the broader cryptocurrency market.
Bitcoin price traded above $27k again after it came close to dipping under $26k earlier in the week. This comes after news the US had struck a deal on its debt ceiling, and with BTC up, it's likely the sentiment cascaded into small cap altcoins like MASK.
At the time of writing, Mask's daily trading volume is well over $80 million, representing a 148% jump in the past 24 hours. The spike in market activity has seen Mask Network, which is ranked 110 on CoinGecko, hit a market cap of about $354 million.
MASK price prediction
Despite the gains, MASK price remains nearly 90% down from its all-time high of $41.45. The token hit the ATH February 24, 2021.
The current value is however 352% higher than the all-time low of $0.976528, hit on Oct 13, 2022 and today's gains could, therefore, see traders seek to take profits. While this could happen, some analysts believe that the token is primed for a breakout.
Crypto analyst Captain Faibik says MASK could see a breakout as shown in the chart below shared on Twitter.
According to the analyst, MASK could surge by more than 60% to more than $7.20. Looking at the chart, it suggests the scenario will likely unfold if price breaks and sustain fresh momemtum above the upper resistance of channel pattern.
The post Mask Network (MASK) price is up 10% today: Here's why appeared first on CoinJournal.