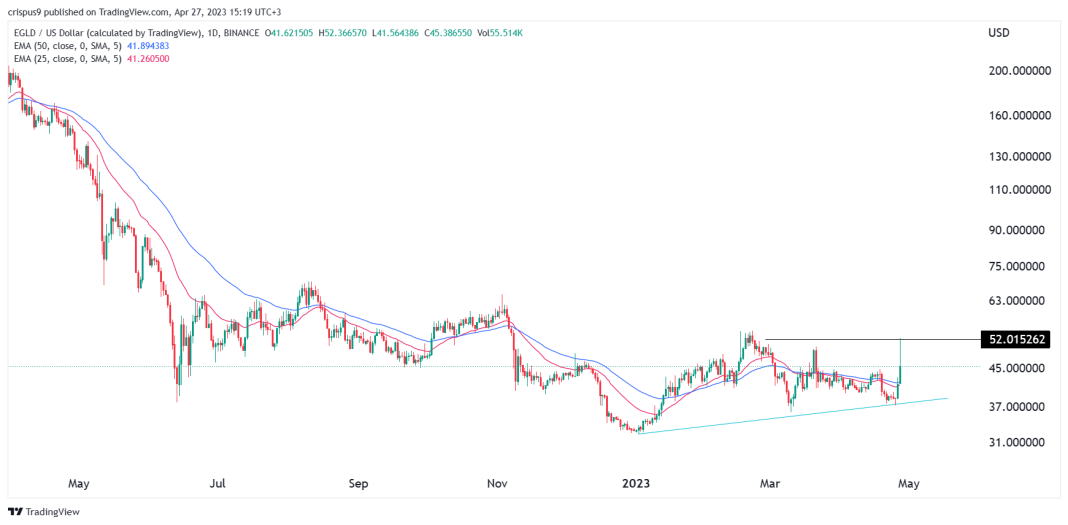 MultiversX price jumped sharply on Thursday.

This happened after Upbit listed the coin in its ecosystem.
MultiversX price jumped sharply as investors reacted to the latest listing in Upbit, one of the leading crypto exchanges. EGLD jumped to a high of $52.01, the highest level since February 21 of this year. In all, the coin has risen by more than 37% from the lowest level this year.
Why is MultiversX soaring?
MultiversX, formerly known as Elrond, is a leading blockchain project that aims to be a good replacement for Ethereum and Solana. Its main advantage over Ethereum is that it was one of the earliest blockchains to adapt the sharding technology. 
First implemented by Ziliqa, sharding is a technology that boosts transaction throughputs by breaking blocks into smaller pieces known as shards. MultiversX is also highly cost-effective for users, with the average transaction cost being about $0.0022.
MultiversX has been embraced by developers creating dApps in industries like DeFi, non-fungible tokens, and the metaverse among others. According to its website, the network has over 2.2 million wallets and has completed over 314 million transactions.
The main reason why the EGLD price is surging is that Upbit decided to list the coin. This is a major event since Upbit is one of the biggest exchanges in the world with over 8.6 million customers globally.
In most cases, we often ss cryptocurrencies jump after a major exchange listing. For example, as we wrote here, FlokI Inu price jumped this week after it was listed by Binance US. Historically, these gains tend to be short-lived.
$EGLD is now listed on @Official_Upbit, the world's 1st crypto exchange by fiat volume & 2nd largest by spot volume.

Opening up EGLD trading for 8.9M+ users.

Deposits and trading are live on the EGLD/KRW and EGLD/BTC pairs.https://t.co/r7yuMjNAT3 pic.twitter.com/wE3cFjpAij

— MultiversX (@MultiversX) April 27, 2023
EGLD price prediction
The daily chart shows that the EGLD price made a bullish breakout after being listed in Upbit. It moved above the 50-day moving average and retested the key resistance point at $52.01. This was an important level since it was the highest point in February.
Therefore, I suspect that EGLD will retreat slightly in the next few days and then resume the bullish trend. The final part will depend on the performance of other cryptocurrencies like Ethereum and Bitcoin. 
How to buy MultiverseX
Binance
Binance is one of the largest cryptocurrency exchanges in the world. It is better suited to more experienced investors and it offers a large number of cryptocurrencies to choose from, at over 600.
Binance is also known for having low trading fees and a multiple of trading options that its users can benefit from, such as; peer-to-peer trading, margin trading and spot trading.
OKX
OKX is a top cryptocurrency exchange which offers over 140 cryptocurrencies to invest in.
OKX takes customer security very seriously, they store almost all of their clients' funds in cold storage, and the exchange is yet to be hacked.
On top of this, the exchange offers very low fees and customers can even use their crypto as collateral for loans on the platform.
The post Here's why MultiversX (EGLD) price just jumped appeared first on CoinJournal.