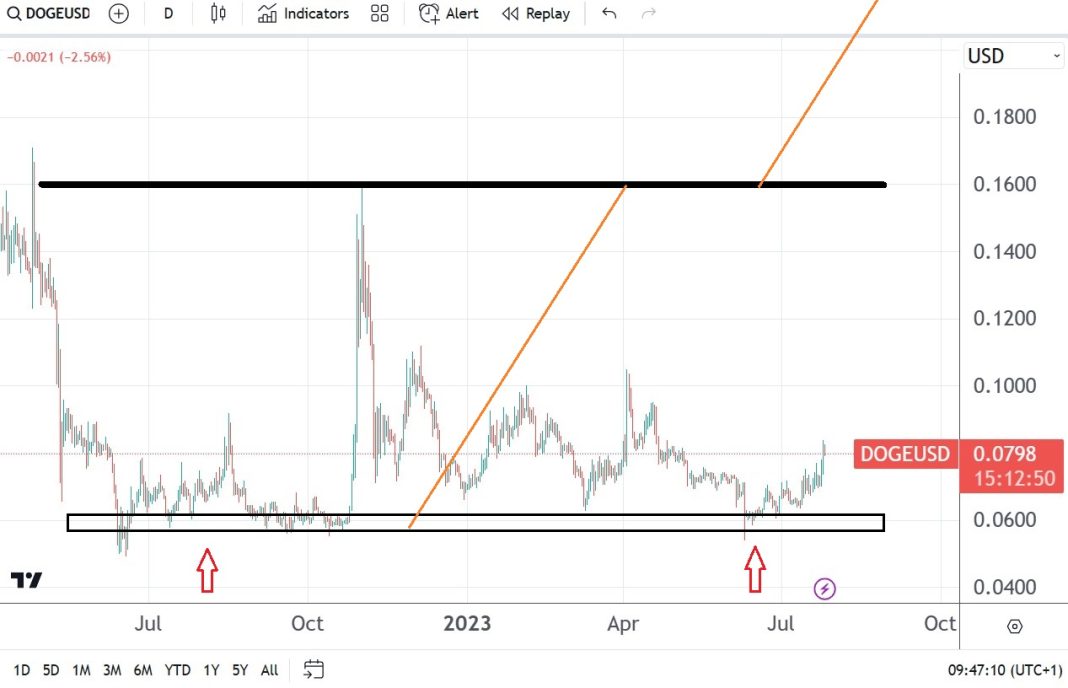 Dogecoin failed at $0.1 resistance in 2023 and made new lows
A double bottom might already be in place
If Dogecoin breaks above resistance, more buying should follow
Financial market participants await the Federal Reserve's monetary policy decision later in the North American session. The Fed is expected to raise the funds rate again by another 25bp. 
Therefore, it will be interesting to see the message regarding future decisions. Most likely, the Fed's Chair, Jerome Powell, will offer some hints during the press conference to follow the FOMC Statement, and so the dollar's volatility is poised to increase. 
The Fed's decision interests all market participants, regardless of the market traded. Cryptocurrency traders speculating on US dollar pairs get ready for a sharp increase in volatility too. 
Dogecoin, for instance, looks interesting. It rallied in 2023 together with other major cryptocurrencies, only to be rejected at the $0.1 resistance area. 
The rejection was so powerful that Dogecoin gave up all of its gains and made a new lower low. However, other cryptocurrencies, such as Bitcoin, did not give up their gains, making it even more difficult for Dogecoin bulls to hold their positions. 
The good news is that Dogecoin bounced from the lows, and a double bottom pattern might already be in place. As such, one should not be surprised to see the cryptocurrency trying again to break the $0.1 resistance area. 
Dogecoin should rally some more if it overcomes the horizontal resistance
A double bottom is a bullish reversal pattern forming at the end of bearish trends. The $0.06 area provided support, and now the path of least resistance leads to another attempt at the $0.1 area. 
A daily close above resistance should open the gates for more upside. The pattern's measured move points to much higher levels, as even the neckline lies way higher. 
Summing up, Dogecoin bulls should welcome the recent price action, as the rally in July might just be the start of a meaningful bullish trend. 
The post Dogecoin rallies in July, as a double bottom might already be in place appeared first on CoinJournal.