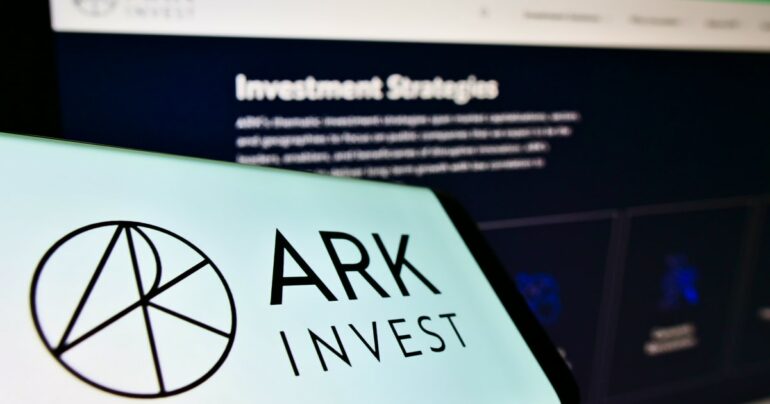 Cathie Wood's Ark Invest has sold nearly half a million Coinbase shares worth over $53 million. 
The sale was made by three of Ark's leading funds including the Ark Innovation ETF and Ark Fintech Innovation Fund. 
Coinbase's stock was trading at a yearly high of $113 when Ark Invest sold the shares. 
Ark Invest is actively buying shares of Meta and discount brokerage firm Robinhood. 
Cathie Wood's asset management firm Ark Invest has sold nearly half a million Coinbase Global shares worth more than $53 million. The sale comes less than a week after the Ark Innovation ETF sold 135,152 shares of the crypto exchange after the stock rallied amid a series of spot Bitcoin ETF applications. Applications from TradFi giants like BlackRock and Fidelity named Coinbase as its surveillance-sharing partner, leading to an uptick in its share price. 
Ark Invest Bumps Meta and Robinhood Holdings
According to a report by The Block, three of Ark Invest's leading funds were involved in the sale of the Coinbase shares. The Ark Innovation ETF sold 263,247 shares, Ark Next Generation Internet ETF sold 93,227 shares while Ark Fintech Innovation ETF sold 121,882 shares, bringing the total to 478,356 shares. The sale came on the same day when the crypto exchange's stock rallied to a yearly high of $113. 
The rally was prompted by the summary judgment in SEC's lawsuit against Ripple, which indicated that XRP did not qualify as a security. The ruling was interpreted as a bullish event by the crypto community and triggered rallies in several crypto tokens and stocks. 
Data from CNN shows that despite the considerable sale earlier, Ark Invest was the second largest holder of Coinbase Global after The Vanguard Group. Among its funds, the asset management firm held a 6.30% stake in the crypto exchange with 11.7 million shares worth a whopping $732.4 million. The asset manager's trading desk revealed that it had bought more than 82,000 shares of Meta (formerly Facebook) and 169,116 shares of discount brokerage firm Robinhood.