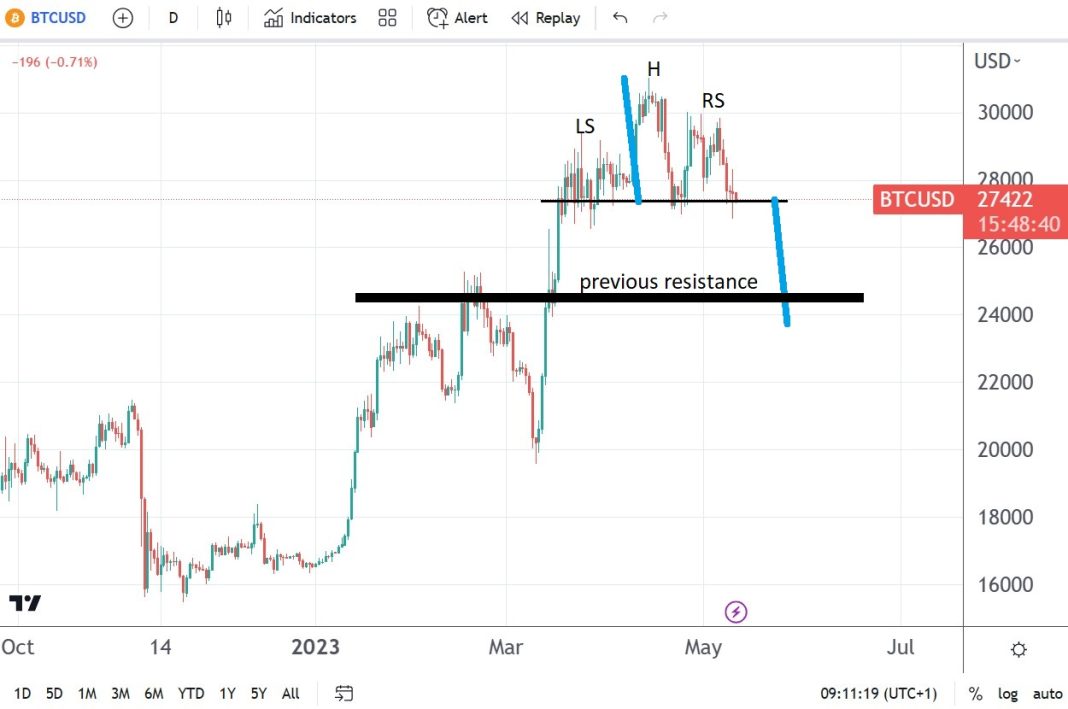 US inflation remains well above the Fed's target
The disinflationary momentum continues  
US dollar buyers are likely to emerge as more rate hikes are likely 
Last week, the Federal Reserve of the United States signaled its willingness to pause the rate hiking cycle. It said that the committee would remain data dependent. 
Well, data shows that the Fed is likely to keep raising rates. Yesterday, the US inflation report for April was released. 
While the annualized inflation keeps decreasing, it remains well above the Fed's target. Coupled with the resilient jobs market, it gives the Fed the green light for more tightening. 
Bitcoin followed a similar path to fiat currencies. The US dollar is up and trending higher, as seen by the AUD/USD exchange rate unable to keep above 0.68 and down now about 100 pips points. 
But for Bitcoin, the bearishness appears to be more accentuated. A head and shoulders pattern indicates a drop to $24k, should the US dollar's momentum continue. 
Technical analysis favors a drop to $24k
Bitcoin failed at 30k after a strong rally in 2023. One can spot a bearish technical pattern – a head and shoulders. 
The measured move, seen in blue, points to a drop to $24k, an area that offered resistance in the past. Therefore, according to the interchangeability principle, it should offer support the first time it will be retested. 
Bitcoin followed the US dollar, and the events in the traditional financial markets influenced how Bitcoin moved. Yesterday's inflation report shows that the Fed will likely continue to raise interest rates, so the downside is the path of least resistance for Bitcoin. 
The post Bitcoin drops after US inflation data; $ 24k is the next target appeared first on CoinJournal.