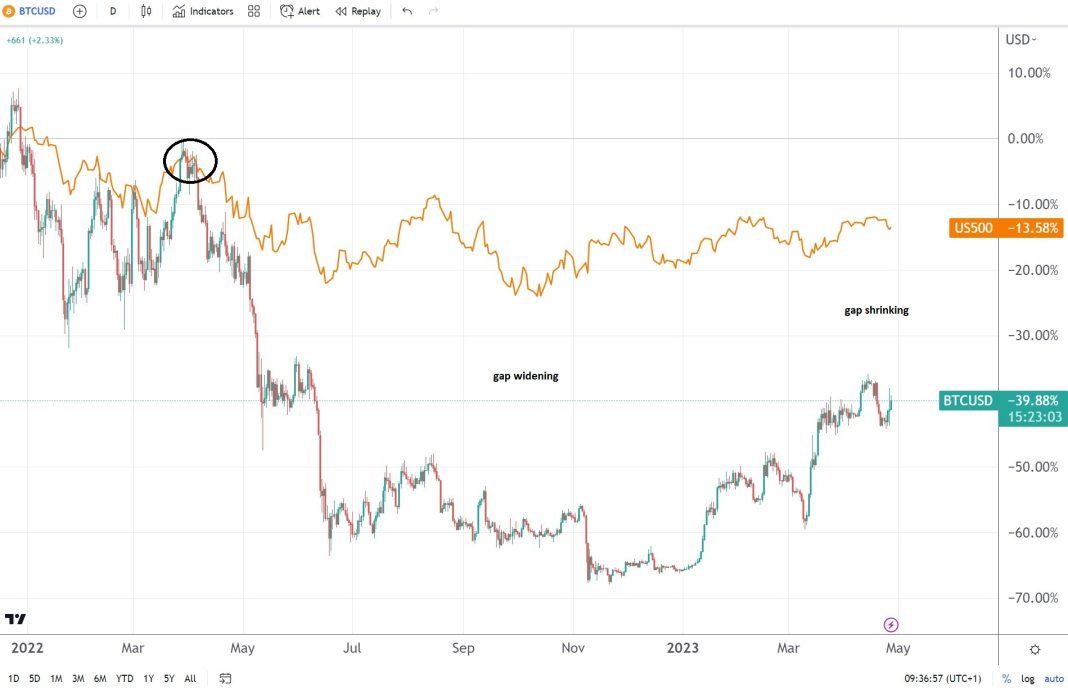 Bitcoin and the S&P 500 move in a tight correlation
The 2023 price action is relevant for understanding the direct correlation
If stocks bounce, Bitcoin should follow
For many years cryptocurrency investors wished Bitcoin to be adopted by institutional investors. Eventually, their wish came true.
Bitcoin is now part of many institutional portfolios, for various reasons. Some believe that it is the digital gold. Others say that it has huge upside potential due to its scarcity.
No matter the reason, Bitcoin is now part of the institutional investing world. But it came at a price. Namely, Bitcoin became just another asset trading in correlation with regular markets, such as the S&P 500.
Even the 2023 rally does not alter the relationship, as seen in the chart below.
If US stocks bounce from here, Bitcoin should rally some more
Yesterday, Bitcoin tried its hand again at the $30k level. Stocks tanked.
But even so, the correlation between the two remains. Therefore, the price action since 2022 is relevant.
In April 2020, the two delivered similar performances. Yet, the scandals in the cryptocurrency industry have sent Bitcoin lower.
However, every bounce happened just when stocks bounced. The most recent price action is relevant, as Bitcoin matched both advances and declines in the stock market. Just the amplitude of the moves was different, just as it was when Bitcoin's price was in bearish territory.
All in all, it is hard to believe that this correlation will go away anytime soon. Also, it is unlikely that Bitcoin would not rally some more, should stocks bounce from here.
The post A bullish case for Bitcoin should US stocks bounce from here appeared first on CoinJournal.