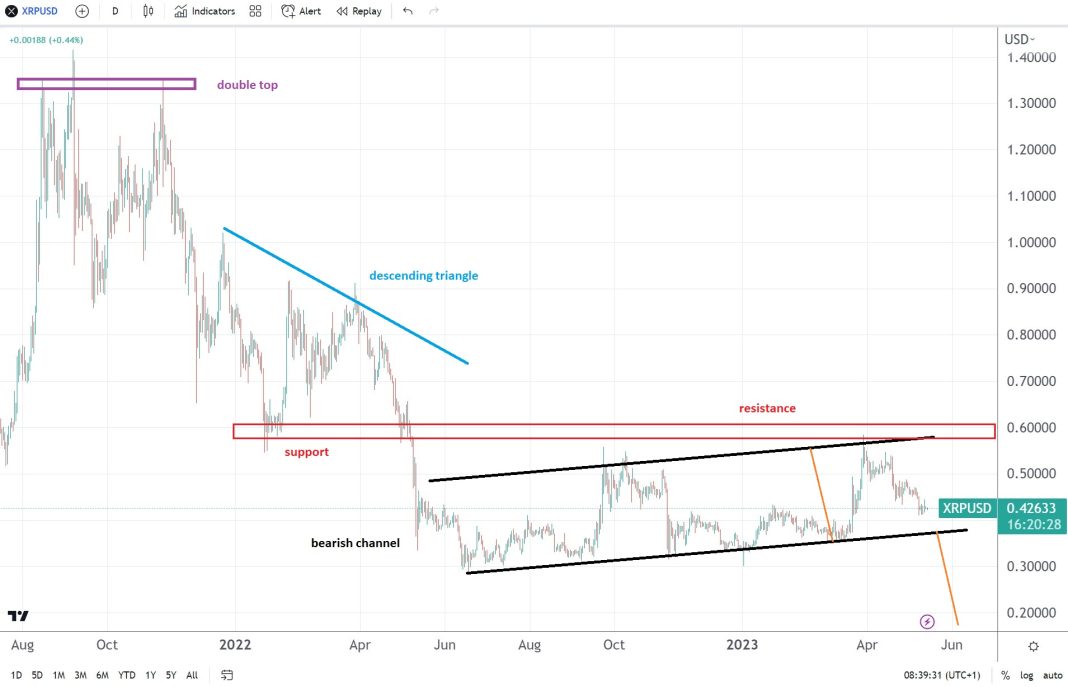 XRP/USD gave away half of the 2023 gains
A bearish channel points to more weakness
$0.3 must hold for bulls to still hope
Cryptocurrency investors were thrilled to find out that the industry bounced strongly in 2023. In the first quarter, all leading cryptocurrencies rallied, led by Bitcoin.
XRP/USD rallied too. It traded as low as $0.3 in the early days of 2023 and almost doubled by the end of the first quarter.
A combination of prolonged dollar weakness and enthusiasm in the crypto universe was responsible for the rally. Also, the Federal Reserve played with the idea of pausing the interest rate hikes as inflation cooled down.
But instead of the dollar weakness continuing, it stopped. Moreover, the trend reversed, and the dollar rallied so far in the second quarter.
And what markets corrected the most? The ones that rallied the most, such as the cryptocurrency market.
XRP/USD in danger of breaking the $0.3 support area
The technical picture looks increasingly worrying for XRP/USD. Despite the Q1 2023 rally, XRP/USD still moves with a bearish tone.
It appears the rally was nothing but a bear market rally, given the bearish channel remained intact. In fact, the market failed right where it was supposed to – at resistance offered by previous support.
Should the market break below the bearish channel (i.e., below $0.3), the projected measured move points to continued weakness toward the $0.2 area. In that case, the bearish channel is nothing but a continuation pattern in a bearish market that started with a double top pattern in late 2021.
All in all, for bulls to still hope, the market must hold inside the channel. Another attempt to the $0.6 resistance area would be desirable, but one should not discount the increased possibility of breaking below $0.3 and the bearish implications of such a move.
The post XRP/USD price prediction: $0.3 must hold for bulls to still hope appeared first on CoinJournal.