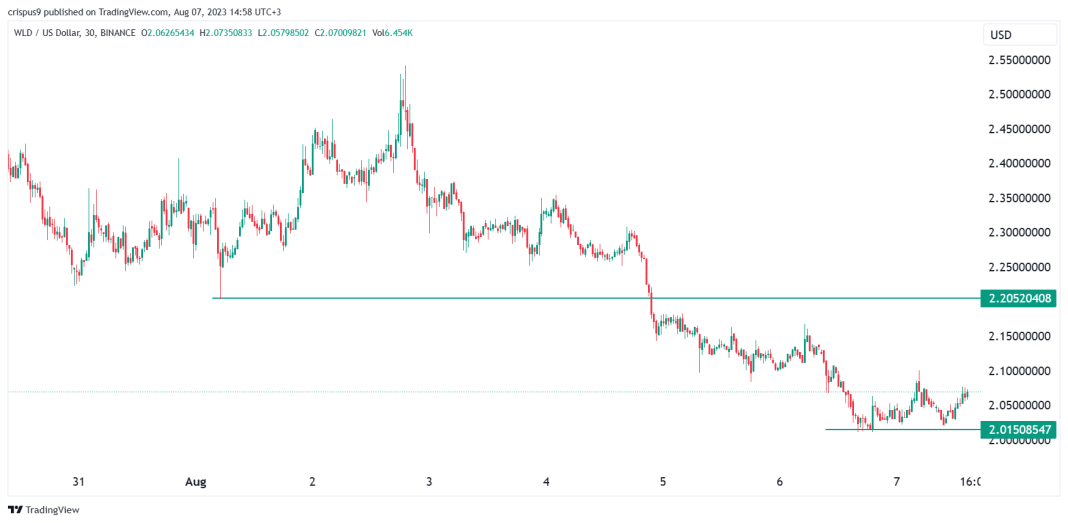 WorldCoin, the new blockchain project started by Sam Altman, is going through major headwinds as regulators remain concerned about data privacy. As a result, the WLD token price has plunged by more than 72% from the highest level this year. The total volume of the tokn traded in exchanges has dropped.
Headwinds continue
WorldCoin was recently launched with a lot of hype, mostly because of its founder, who was the creator of ChatGPT. The key challenge for the network is the data collection part of its operations. 
As part of the strategy, the developers are collecting user data by scanning their iris using the Orb device. Many countries, especially in Europe, have warned the company against collecting its users data.
Authorities in Kenya last week suspended the data collection as thousands of people participated in the process. These people were promised to receive tokens worth about $50. That was a high figure in a country where the youth unemployment rate stands at a record high.
Now, authorities in Kenya have raided a warehouse belonging to WorldCoin. A report by a Kenyan media company said:
"The officers backed by multi-agency officials went to the offices along Mombasa Road armed with a search warrant and broke in Saturday before leaving with machines they believe stores data gathered by the firm."
In a recent statement, authorities in the UK warned that the company must work in line with the Data Protection Impact Assessment (DPIA) before collecting user data.
"Organisations must conduct a Data Protection Impact Assessment (DPIA) before starting any processing that is likely to result in high risk, such as processing special category biometric data. Where they identify high risks that they cannot mitigate, they must consult the ICO."
WLD price has lost steam
WorldCoin's token, WLD, has been in a tight range in the past few days. On the 30-minute chart, we see that the token has formed a double-bottom pattern, which is usually a bullish sign. The token remains below the important resistance level at $2.20, the lowest point on August 1.
Therefore, the token will likely remain in a consolidation phase in the coming days. A bullish breakout will likely see it rise to about $2.20. A break below the support at $2 will invalidate the bullish view.
The post WorldCoin faces renewed headwinds as WLD price retreats appeared first on CoinJournal.