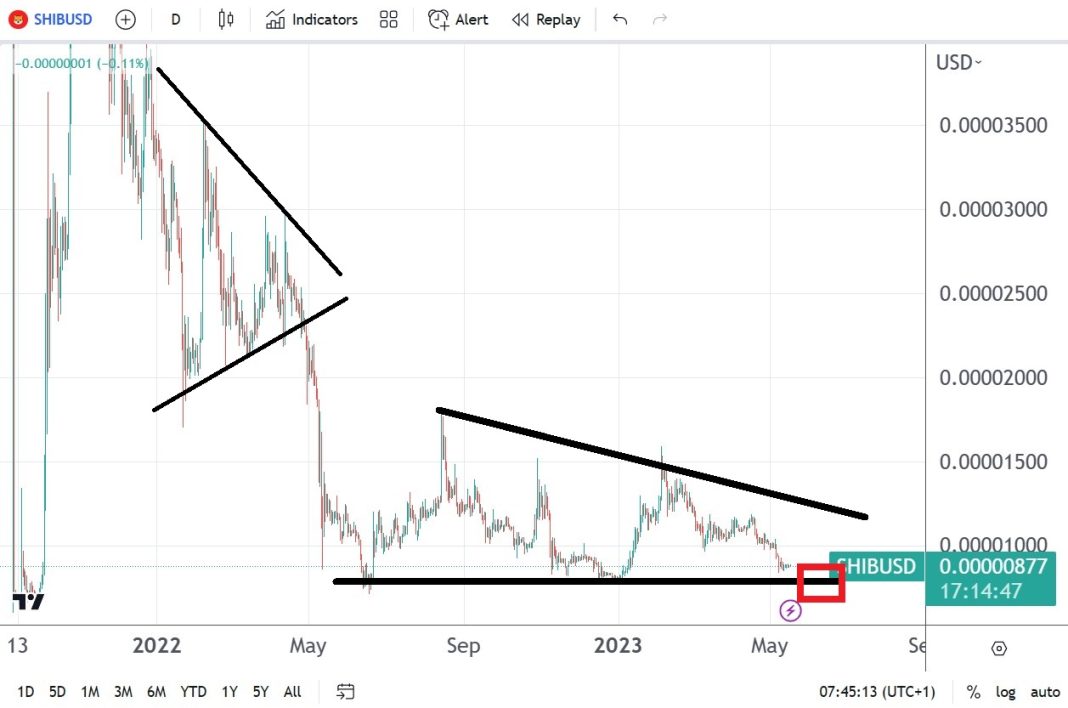 Weak cryptocurrencies unable to deal with renewed dollar strength 
Shiba Inu gave up all of its 2023 gains
The technical picture signals more downside
The bearish crypto market of 2022 appeared to have ended at the start of 2023. Then, Bitcoin rallied, dragging with it the entire crypto ecosystem. 
Shiba Inu, one of the most speculated cryptocurrencies, followed Bitcoin's lead. But something decoupled lately. 
More precisely, Bitcoin still trades near the yearly highs, whereas Shiba Inu gave back all of its 2023 gains. To make things worse, the price action evolves in a bearish pattern, a descending triangle, and a break below the horizontal support would trigger even more downside. 
Shiba Inu chart by TradingView
Weak cryptocurrencies unable to deal with a stronger dollar
The dollar's weakness triggered the rally in the cryptocurrency market. But with so many projects in the crypto space, it makes sense to believe that not all will hold when the dollar reverses course. 
And it did reverse course in the last few weeks, trading a tad higher – not much, but still. For instance, the US dollar gained only about a couple of hundred pips against the euro, its rival, so one cannot say that the recent dollar strength is unusual. 
However, when the dollar flexes its muscles, the weak cryptocurrencies dive. So did Shiba Inu and others, while Bitcoin is relatively unchanged. 
The irony of it is that the recent dollar strength came in the context of the Federal Reserve hinting it may pause its tightening cycle as inflation comes down. Imagine what would happen if inflation has another spike higher and the Fed changes the rhetoric and hikes some more. 
All in all, Shiba Inu does not look good. The technical picture shows tremendous pressure building against horizontal support, and the odds favor more weakness. 
The post Shiba Inu erases 2023 gains, reaches major support area appeared first on CoinJournal.