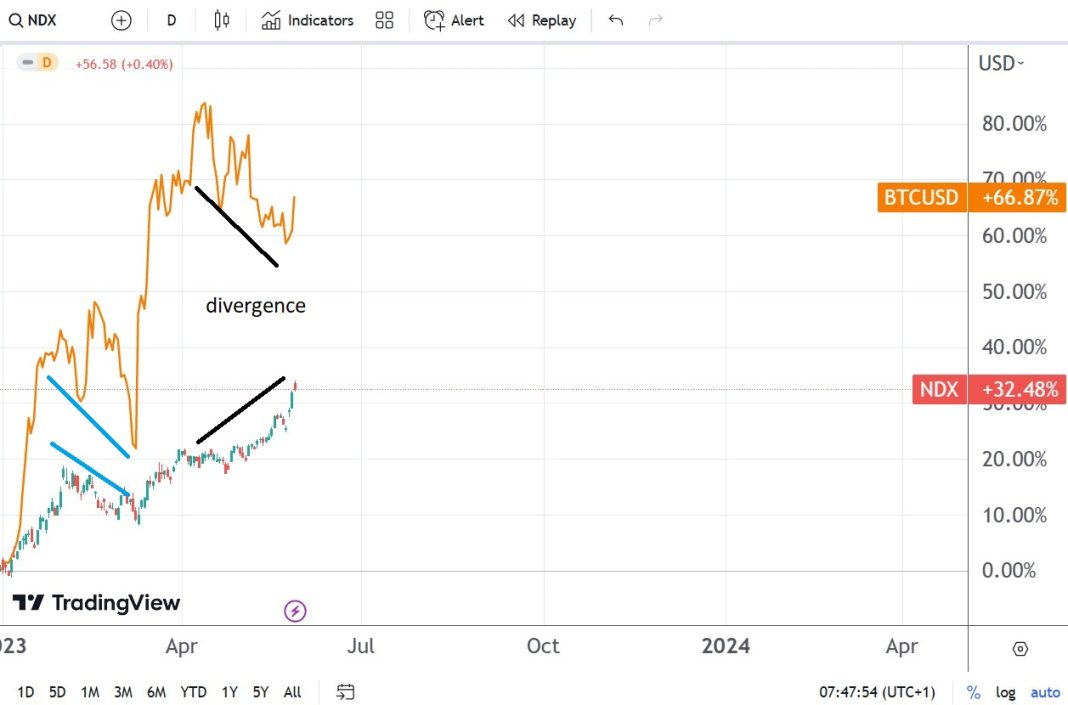 Investors pile into the US tech sector, sending the NASDAQ 100 index higher
Bitcoin's rally should continue on the back of the bullish tech sector 
A divergence with the NASDAQ 100 index shows more upside potential for Bitcoin
Tech sector investors are in a frenzy, as they piled into tech companies in a rush not seen for a few years. After correcting for most of 2022, NASDAQ 100, the stock market index representing the US tech sector, is on fire. 
It gained over 30% YTD and looks bullish. 
A combination of factors led to the bullish movement, such as the AI revolution or the cost-cutting measures announced by companies such as Meta or Amazon. The fear of missing out drove investors into tech stocks again, culminating in NVIDIA's stock price reaching a level that put the company into the $1 trillion market capitalization select club. 
For cryptocurrency traders, these are great news. In particular, Bitcoin looks like it is about to push even higher, despite gaining more than 65% YTD.
Bitcoin's price action lags behind 
Bitcoin has been long traded in a tight, positive correlation with the NASDAQ 100 index. So, for example, while the tech sector index entered bearish market territory last year, Bitcoin followed. 
Moreover, after the NASDAQ 100 index bottomed in late October 2022, Bitcoin followed too. 
Furthermore, this year, the price action was identical, up to a point. That is, they both rallied at the start of the year. Next, a correction followed for both the NASDAQ 100 index and Bitcoin. 
But then they diverged because the tech sector index's rally continued while Bitcoin price corrected. However, given the positive correlation between the two, one may state that it is only a matter of time before Bitcoin will make a new higher high for the year, providing the tech sector's rally continues. 
The post Nasdaq 100's price action indicates more gains for Bitcoin appeared first on CoinJournal.