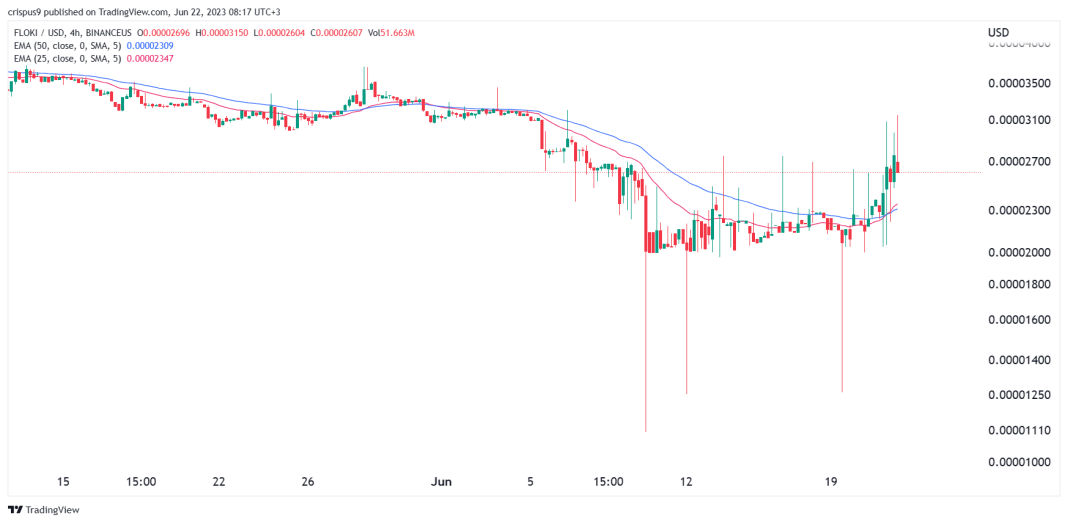 Floki Inu price has soared in the past few days.

It has joined other popular cryptocurrencies like BTC and Jasmy.

Chancer's pre-sale has raised over $309k in about a week.
Crypto investors are getting greedy as the focus shifts to the so-called TradFi continues. The crypto fear and greed index has jumped to the greed zone of 55 while the CNN Money index has moved to the extreme greed area of 75. Most cryptocurrencies have jumped, with Pepe, Bitcoin Cash, and Floki Inu soaring by over 20% in the past 24 hours. At the same time, Chancer has raised over $309k from investors in its token sale.
Why Floki Inu is rising
Floki Inu is a popular meme coin that aims to have utility in the blockchain industry. In the past few years, the developers have launched the Floki ecosystem, which is made up of a metaverse platform known as Valhalla, a DeFi product known as FlokiFi, and NFT collections.
The main reason why Floki Inu price is soaring is the ongoing move towards traditional finance, popularly known as TradFi. This is a trend where large traditional companies have started to embrace cryptocurrencies, Bitcoin in particular.
The trend started last week when Blackrock applied for the iShares Bitcoin Trust. It hopes that the SEC will give it the approval to launch the first spot Bitcoin ETF. Such an ETF will make it possible for investors to allocate funds into BTC without holding the real thing.
Shortly thereafter, other financial services companies also filed for their spot in Bitcoin ETF. They are well-known companies like Invesco and WisdomTree. 
The other important crypto news was the decision by Deutsche Bank to file for a crypto custody license in Germany. 
To be clear. The impact of these tradfi news are negligible to most cryptocurrencies since all these companies have focused on Bitcoin. As such, Floki Inu and other altcoins have jumped because the news is helping to ameliorate the recent regulatory pain. 
Therefore, there is a likelihood that the Floki Inu price will continue rising in the near term. If this happens, the next level to watch will be at $0.00035.
Chancer token sale gains steam
Another important news is that Chancer has managed to raise over $309k in its highly successful token sale. In it, the developers have sold over 30.9 million $CHANCER tokens. In the first stage of the sale, the token is selling for just 0.01 BUSD, which is equivalent to $0.01.
For starters, Chancer is a new company that aims to disrupt the sports betting industry using the blockchain technology. This is a multi-billion dollar company that is used by millions of people every day.
Chancer's unique proposition is that it introduces the concept of social betting and predictive. It means that people can create their betting markets that are not covered by traditional companies. For example, you can create a predictive market for a local city council election or an award ceremony. 
Chancer's other features are the ability to empower token holders by letting them vote on key issues and create their markets. There will also be a live-streaming feature in the platform.
The $CHANCER token, which is based on the BSC Blockchain, will be used to power the ecosystem. In the future, when it becomes fully decentralized, the token will be used for voting and staking purposes.
Is $CHANCER a good buy?
Investing in pre-sale tokens is always a high-risk and high-reward thing to do. It is high risk since the token can crash to zero when it is launched. It is also highly illiquid in its initial days, meaning that it is difficult to exit. 
However, in other situations, investing in pre-sale tokens can lead to substantial profits. We recently saw this in tokens like Pepe and Milady. Therefore, we recommend that you first read the Chancer white paper and then allocate some of your funds to it. You should only invest funds that you are ready to lose.
The post Floki Inu price prediction as Chancer token sale gains steam appeared first on CoinJournal.