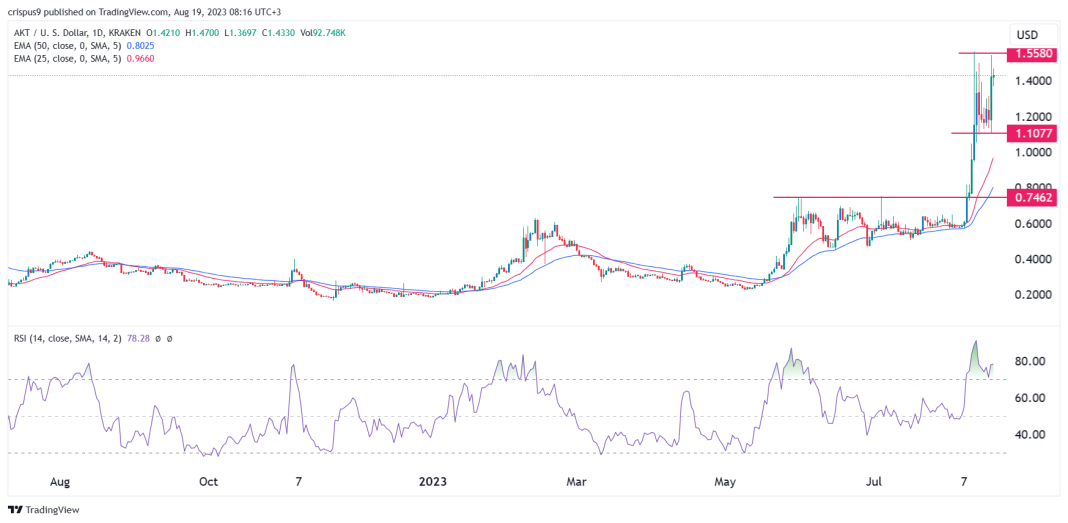 Cryptocurrencies dipped sharply as bond yields surged.

Most coins attempted to bounce back, in what could be a dead cat bounce.
Cryptocurrencies stabilized on Saturday after going through one of their worst performance in the past few months. After consolidating at $29,000 for weeks, Bitcoin plunged to $25,000. Sei, one of the newest tokens, plunged by over 80% from its all-time high. This article will look at some of the top-performing tokens like THORChain, Bitcoin SV, and Akash Network.
Akash Network price prediction
Akash Network's AKT did not go through a major meltdown this week. On the daily chart, we see that the token rose to a high of $1.5580, the highest level since April last year. The token has moved above the 50-day and 25-day moving averages while the Relative Strength Index (RSI) has moved above the overbought level.
Akash Network has also flipped the important resistance level at $0.7462 into a support. This was an important level since it was the highest point on June 1st and July 4th. Now, the token has formed what looks like a double-top pattern whose neckline was at $1.1077. In most periods, a double-top pattern is usually a bearish sign.
Therefore, Akash Network price will likely retreat in the coming days as buyers start to take profit. If this happens, the next level to watch will be the psychological level at $1.0. 
THORChain price prediction
THORChain's RUNE price has made a bullish breakout in the past few weeks. In this period, it has jumped from $0.9170 to a high of $1.60. It has flipped the important resistance point at $1.110, the highest point on July 3rd. 
Like Akash Network, the token has jumped above all moving averages and is about to form a golden cross pattern. This pattern usually forms when the 50-day and 200-day moving averages make a bullish crossover.
Oscillators like the Relative Strength Index (RSI) and the Stochastic Oscillator have moved above the overbought levels. The outlook for the RUNE price is bullish, with the next level to watch being at $2.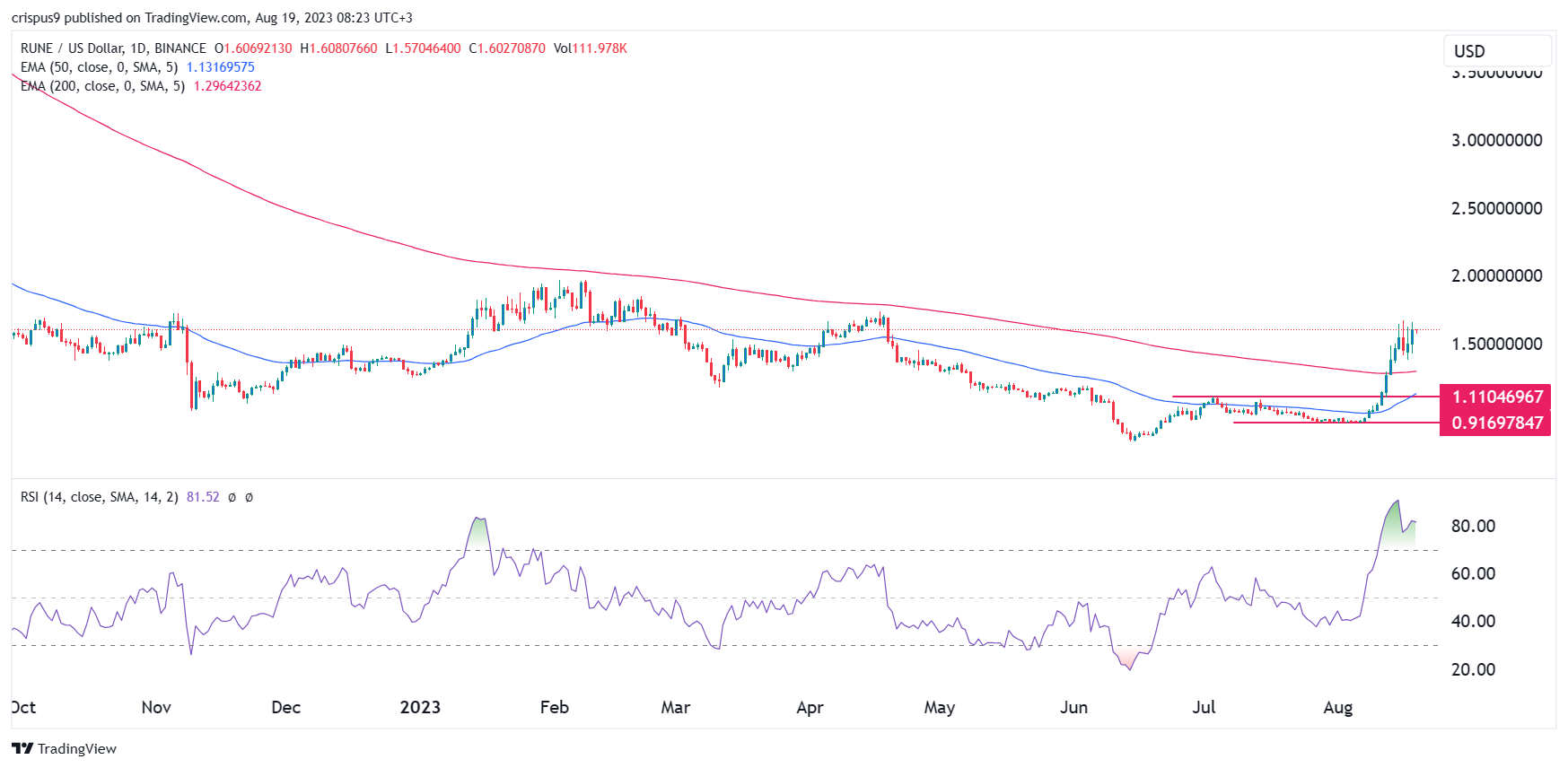 How to buy RUNE
Binance
Binance has grown exponentially since it was founded in 2017 and is now one of, if not the biggest cryptocurrency exchanges on the market.
KuCoin
KuCoin is a global cryptocurrency exchange for numerous digital assets and cryptocurrencies. Launched in September 2017, KuCoin has grown into one of the most popular crypto exchanges and already has over 5 million registered users from 200+ countries and regions. According to Alexa traffic ranking, KuCoin's monthly unique visit ranks the top 5 globally.
Bitcoin SV price forecast
Bitcoin SV price was not left behind in this week's crypto crash. This move was expected since BSV has a close correlation with BTC. As it dropped, the coin dropped below the important support at $34.33, the lowest level on July 27th. 
BSV has also slipped below the 25-day and 50-day moving averages. It has now rebounded and flipped the resistance at $29, the lowest point on May 8th. This rebound seems like a dead cat bounce, signaling that the coin will likely resume the bearish trend in the coming days. If this happens, the next level to watch will be at $25.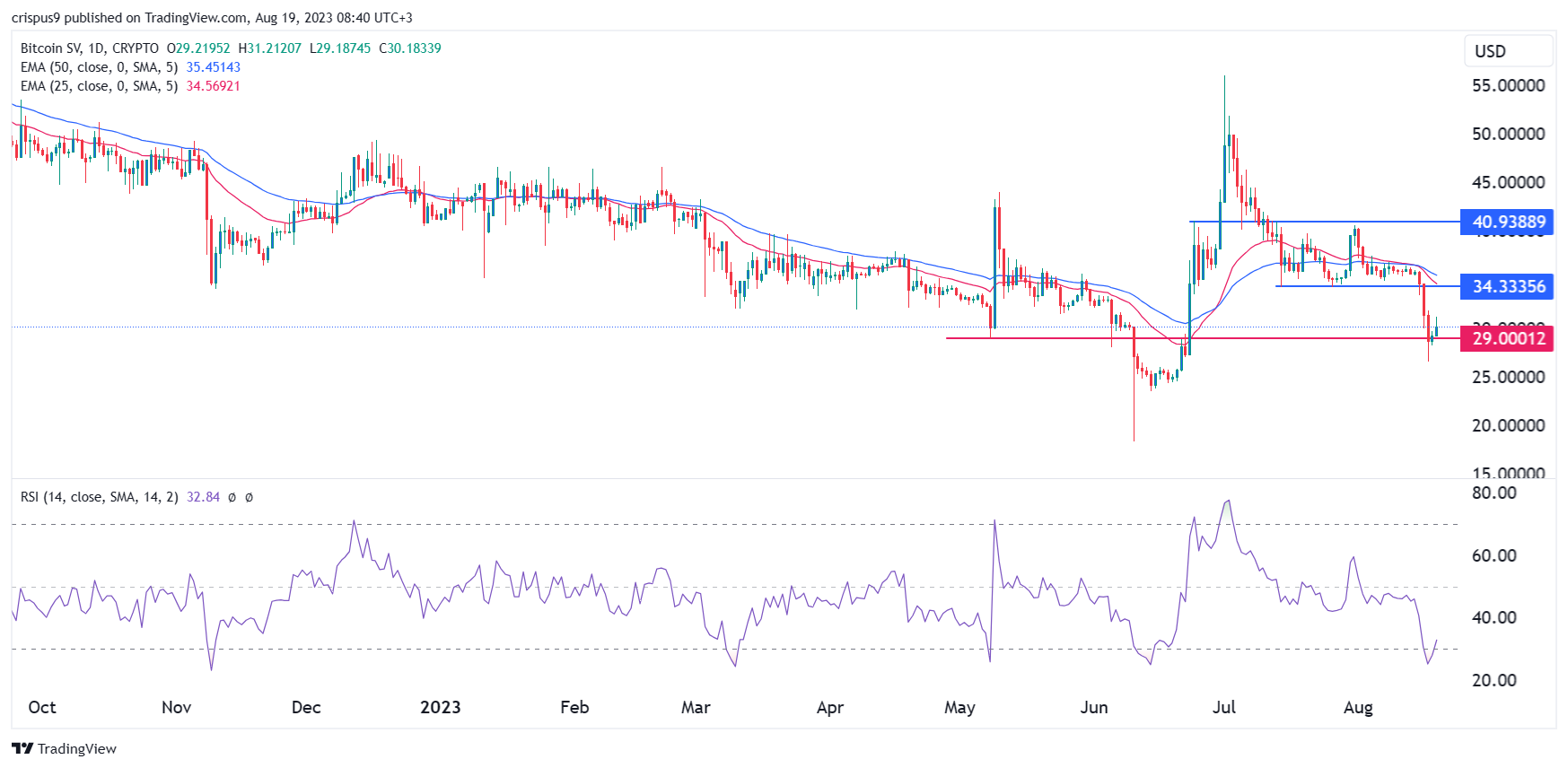 How to buy Bitcoin SV
AVATrade
Ava Financial Ltd operates the AvaFX and AvaTrade forex brands and all business associated with them. The company has a branch office in Dublin, Ireland, which enabled it to get an operational license from the Irish authorities.
OKX
OKX is a world-leading cryptocurrency exchange, providing advanced financial services to traders globally by using blockchain technology.
The post Crypto price predictions: Akash Network, THORChain, Bitcoin SV appeared first on CoinJournal.