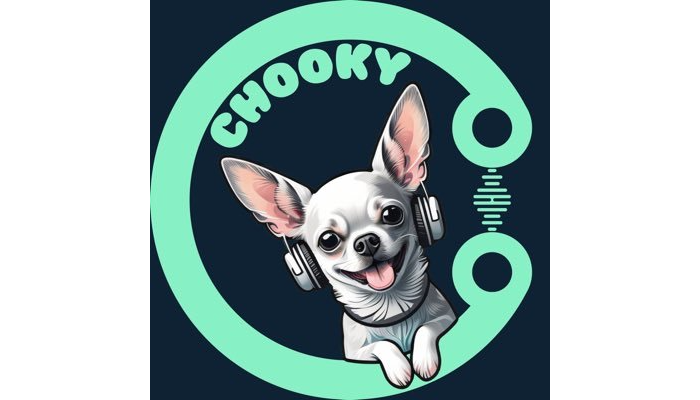 Mark your calendars for September 12, 2023, as Chooky Inu, the Ethereum-based trailblazer, readies itself to make history. By ingeniously merging autographed NFTs via the Chooky Blockchain Record label with the captivating ChooChoons music streaming platform, Chooky Inu proudly unveils $CHOO, a revolutionary royalty and revenue-sharing protocol set to illuminate the cryptocurrency sphere.
Under the visionary leadership of 'Papi,' its CEO, Chooky Inu embarks on an audacious odyssey within the Ethereum network. It serves as both a record label and a music streaming platform, bestowing upon NFT owners unprecedented royalties from songs released via their record label. In stark contrast to the conventional music industry's status quo, which allocates a mere 10% of revenues to artists, Chooky Inu is dedicated to enriching its ecosystem holders. Here's the groundbreaking formula: NFT owners enjoy a 10% royalty, and an additional 10% is earmarked for buying back and burning $CHOO tokens for each song released in collaboration with Chooky. The roadmap includes plans to drop up to 10 songs by year-end, featuring some of the industry's brightest stars, ensuring consistent passive earnings for holders and furthering token deflation through buybacks and burns.
The debut song released under the "Chooky" banner, featuring the relatively undiscovered talents of Elesia Iimura and OT, achieved remarkable feats:
400,000 Spotify streams.
50,000 YouTube views.
Over 210 organic TikTok videos.
The "Chooky Challenge" going viral on Instagram.
Featured on renowned platforms such as World Star Hip Hop, Hype magazine, ThisIs50, and BreakfastClub.
A live radio interview on iHeart.
Global recognition in World Gyms.
In a thrilling development, the Chooky Anthem is set for a resounding comeback, featuring a highly respected artist with Spotify hits exceeding 500 million streams. Each Spotify stream translates into a substantial $4,600 in royalties for the artist, ensuring a continuous income stream for Chooky Inu and its ecosystem holders. The Chooky team harbors grand plans for numerous song releases, some of which may evolve into timeless hits over time, all featuring highly esteemed musicians. This will generate substantial external revenue for distribution to holders while contributing to token deflation through buybacks driven by royalties.
Once the Blockchain record label is firmly established, Chooky Inu intends to seamlessly integrate an advertising and subscription model into its existing free music streaming platform, ChooChoons. The revenue potential is astronomical, especially as user numbers swell. This on-chain model will synergize with their upcoming marketplace, generating passive income for holders and further enhancing the $CHOO token's value. To put this into context, Spotify generates over $4 billion annually, with Audias as the closest comparison, having achieved a market cap of over $2 billion during a bull run.
The Chooky Inu ecosystem has already unfurled a host of exciting developments that are publicly available, with additional thrilling initiatives poised for the near future. Notable highlights encompass a collaboration with a DC comic artist for Music royalty NFTs and a meme coin animation series in partnership with Squidgrow and Volt Inu.
As the crescendo of excitement builds, Chooky Inu is thrilled to announce its sponsorship of a major sporting event this month. Official details will be revealed shortly, but this event promises to be a spectacular showcase for the Chooky Inu Anthem Song, featuring our world-renowned hip-hop artist. It will bring unparalleled exposure to our ecosystem and draw substantial attention to the revolutionary Chooky Inu.
In conclusion, Chooky Inu offers an unparalleled level of innovation, providing passive income opportunities via music royalties, external buyback, and burn pressure, NFT sales, advertising on Choochoons, subscriptions, concert ticket sales, merchandise, and other revenue streams. This groundbreaking approach positions Chooky Inu for substantial growth in market cap over the coming months and years.
Papi, CEO of Chooky LLC (A United States Registered Corporation), provided an electrifying quote for this release: "Get ready to ride the $CHOO $CHOO train! $CHOO is a royalty and revenue-sharing protocol the crypto world has never witnessed before. Chooky Inu possesses the perfect blend of team expertise, community support, and backing from a fusion of esteemed Web2 and Web3 entities. We're ushering in an innovative ecosystem like no other, featuring physical assets and autographed NFTs through the Chooky Blockchain Record label and ChooChoons music streaming."
Website: https://Chooky-inu.com/
Twitter: @Chookyinu
Telegram: @Chookyinu
Media Contact: Crypto Kid Finance LLC
About Chooky:
Chooky is an innovative Ethereum-based ecosystem comprising a music label and a music streaming platform. It introduces a unique royalty and revenue-sharing protocol, $CHOO, which stands as a beacon of innovation in the cryptocurrency space. Through autographed NFTs, Chooky offers NFT owners unprecedented royalties from songs released via their record label, with a portion allocated for buying back and burning $CHOO tokens. Chooky aims to revolutionize the music industry while providing consistent passive earnings for its ecosystem holders.