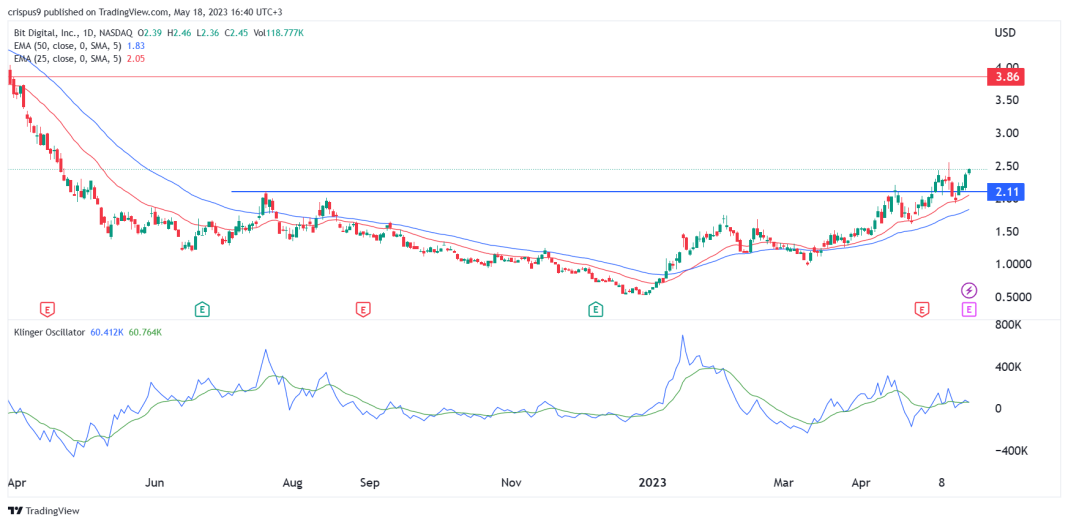 Bit Digital share price has been in a strong bullish trend this year.

It has soared by more than 375% from the lowest level in December.
Bit Digital stock price jumped on Thursday as cryptocurrency prices drifted upwards. BTBT stock has jumped by more than 375% from the lowest level in December, making it one of the best-performing companies in the industry. 
Bit Digital new machines 
Bit Digital is a relatively small Bitcoin mining company with a market cap of over $195 million. It competes with the likes of Marathon Digital and Riot Blockchain among others. The firm also provides Ethereum staking solutions. 
BTBT shares have done well this year, helped by the strong performance of Bitcoin and other cryptocurrencies. In most periods, mining companies have a close correlation with the price of Bitcoin. 
The most recent Bit Digital news is that the company is considering expanding its mining operations in Iceland. The CEO told Wall Street Journal that the firm had acquired another 5,000 machine to diversify its mining operations. 
Like other companies in the cryptocurrency industry, Bit Digital is concerned about the lack of regulatory clarity in the United States. With no explicit regulations, the Securities and Exchange Commission (SEC) and the CFTC have decided to govern by lawsuits. 
At the same time, the Biden administration is considering raising taxes for companies in the industry. A paper by the Treasury Department recommended raising taxes by letting mining companies pay 30% of their total power consumption. 
After launching the new mining machines in Iceland, Bit Digital will generate most of its revenue in the country and in Canada.
The BTBT stock price is also rising because of the performance of Bitcoin prices. BTC jumped to a high of $27,205, higher than this week's low of $25,500.
Bit Digital stock price forecast 
Turning to the daily chart, we see that the BTBT share price has been in a strong bullish trend in the past few months. It has managed to move above the key resistance level at $2.11, the highest point on July 21st last year. 
Bit Digital has also moved above all moving averages while the Klinger Oscillator has drifted upwards. The momentum oscillator has continued rising. Therefore, the stock will likely continue rising as buyers target the next key resistance point at $3. A drop below the key support level at $2.11 will invalidate the bullish level
The post BTBT stock price outlook as Bit Digital expands in Iceland appeared first on CoinJournal.