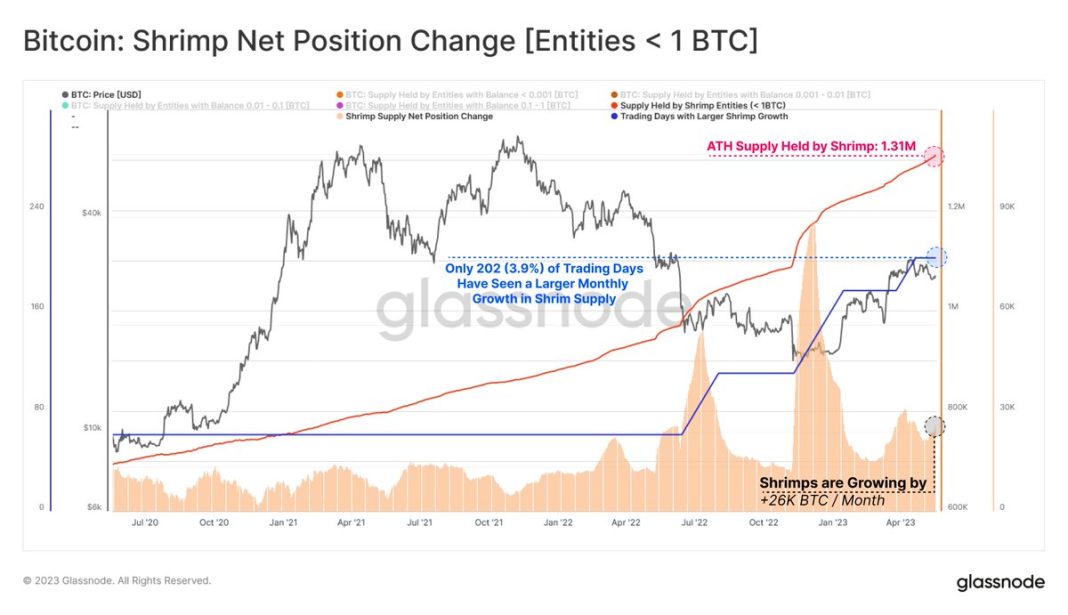 Bitcoin wallets with less than 1 BTC now hold an all-time high of 1.31 million coins.
Shrimps have been adding an average of 26,000 BTC every month, data shows.
The growth of the shrimp cohort is a positive development for the Bitcoin network.
The amount of Bitcoin held by "shrimps" – those wallet entities that currently hold less than 1 BTC) has reached a new all-time high.
According to data from Glassnode, shrimps have increased their total holdings to 1.31 million BTC. The cohort has witnessed the gradual increase in holdings over the past several months.
Shrimps grow holdings by +26,000 BTC every month
Per data Glassnode shared via Twitter, the shrimp cohort has experienced a significant expansion of their holdings in 2023. This followed a similar trend last year, with the buying among this group coming despite the greater volatility that hit the market.
Specifically, shrimps have added 26,000 or more Bitcoin every month. Since July 2020, only 202 (3.9%) trading days have recorded a larger monthly growth.
The suggestion from this is that retail investors have been aggressive in accumulating BTC, with the dips seen during the bear market providing investors with an opportunity to buy Bitcoin at low prices.
The chart below shows the growth in the amount of BTC held by wallet addresses with less than 1 bitcoin. As you can see, the amount held by these entities has increased significantly in June/July 2022 and again in November/December and January 2023.
Increase in small holders is a positive for the long-term health of Bitcoin's network as the metric suggests retail investors are confident in the cryptocurrency's growth and long term potential.
The post Bitcoin supply held by shrimps hits all-time high of 1.31 BTC appeared first on CoinJournal.