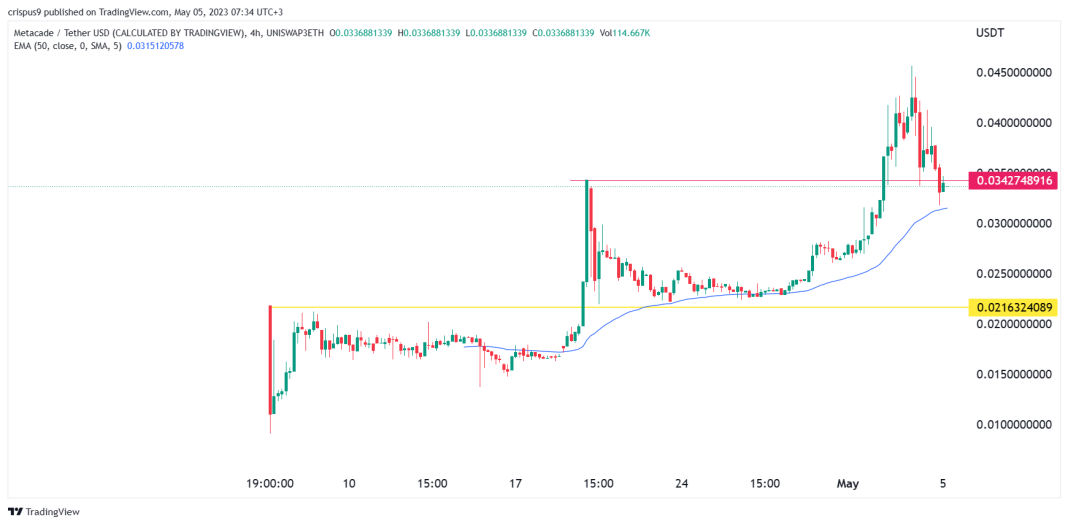 Metacade price has jumped by 275% from its all-time low.

The token will benefit from a Fed pivot as US banks collapse.

Technicals are supportive of the cryptocurrency.
Metacade (MCADE) price has done well since going public in April this year. In all, data compiled by Uniswap shows that the token has jumped by more than 275% from its all-time low, making it one of the best-performing cryptocurrencies in the world. Here are three reasons why Metacade price will likely continue soaring in the near term.
Macro events favor cryptocurrencies
The first main reason to invest in Metacade is that macro events seem to favor cryptocurrencies and other assets. On Wednesday, the Federal Reserve decided to hike interest rates by 0.25%, bringing them to about 5.25%. Analysts believe that the Fed has now ended its hiking cycle since there are signs that the American economy is slowing.
For example, GDP data published last week showed that the economy slowed down in A1. Further data showed that the manufacturing sector continued contracting in April this year. Retail sales have slowed as inflation remains stubbornly high.
Most importantly, the banking sector is at its biggest risk in years. On Monday, the FDIC seized First Republic Bank and sold it to JP Morgan, as we wrote here. Other banks are at a significant risk. For example, PacWest shares tumbled by over 50% on Thursday while Comerica and Western Alliance fell by double-digits. 
Therefore, it is hard to fathom the Fed continuing hiking rates in a period when banks are collapsing. As such, there is a likelihood that Metacade will and other altcoins will do well because of Bitcoin's role as a safe haven.  In fact, Bitcoin and other major tokens have outperformed stocks this year.
Metacade important news
The other main reason to invest in Metacade is that there are some important news that could push the token higher. First, the number of MCADE holders has continued rising in the past few weeks. 
Data compiled by Etherscan shows that the number has jumped to 9,239, which is much higher than where it was last month. This is a sign that the token is gaining traction and that the number will get to 10k soon. The number of MCADE transfers has jumped to over 27,289.
Meanwhile, according to the Metacade white paper, the developers are working to get the token listed in more centralized exchanges. Already, the token has been listed in platforms like MEXC and BitMart. Other potential exchanges where the developers plan to list it are Binance and OKX. In most cases, cryptocurrencies tend to do well after a major exchange listing.
Further, the developers are working on the Metacade game, which is expected to be launched in the next few months. We expect that the game will do well, which will help the token gain traction in the next few months. Historically, crypto tokens tend to do well ahead of a major event.
Metacade technicals are supportive
The other main reason to invest in MCADE is that technicals are supportive. On the four-hour chart, we see that the Metacade price has been in a bullish trend in the past few weeks. As it rose, the token moved above the important resistance point at $0.034, the highest point on April 20th. It has now retested that price in what is known as a break and retest pattern.
Metacade is being supported by the 50-period moving average. Therefore, there is a likelihood that the token will bounce back as buyers target the all-time high of $0.045. A break above that level will see it jump to the next psychological level at $0.05.
The post 3 reasons to invest in Metacade after the 275% rally appeared first on CoinJournal.